16 Mar 2022
MORLEY GLASS TO UNVEIL FURTHER INTEGRAL BLIND INNOVATIONS AT 2022 FIT SHOW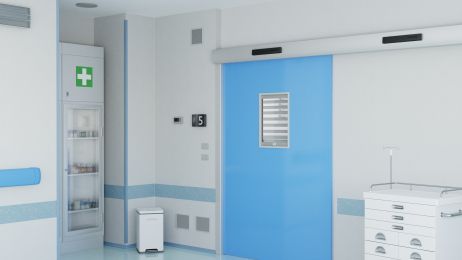 Leading integral blind manufacturer Morley Glass will unveil two further innovations in its award-winning Uni-Blinds® range at this year's FIT Show.
The first is a completely new system for the health and social care sector, as well as other commercial and public buildings, called ScreenView®. This provides installers with a solution for applications such as hospital and medical school door vision panels, where a mix of privacy and observation is required, switchable with ease, at different times of the day. Coupled with fire rated glass, this offers a solution that is both practical and fully compliant with the requirements of a fire door specification.
Unlike any of the Venetian or pleated blinds available in the current Uni-Blinds range, ScreenView® has two layers of wide slats arranged in a ladder style, which move up and down to provide an open view for observation or complete closure. As with every product in the Uni-Blinds range, ScreenView® is manufactured by Morley Glass in Leeds using the world-renowned ScreenLine® integral blind systems from Italian pioneer Pellini S.p.A.
A second innovation making its debut at the FIT Show is a smart home solution for the eco-friendly, solar powered integral blind system, Uni-Blinds W Smart. Already available with a remote control device, the W Smart is a Venetian blind that utilises a small solar panel on the exterior face of the window or door to power the raising, lowering and tilting of the blind – providing easy automation without the need for any hard-wiring by an electrician.
Now, providing an alternative option to the fully Loxone smart home compatible Uni-Blinds MB System, W Smart features a new Pellini plug and play smart hub called ScreenHub®, a technology upgrade that means it can now be controlled using a smart phone app.
Both innovations will be on display at the FIT Show for installers to explore and try-out at the Morley Glass stand, number N31, which will take place at Birmingham's NEC from 10th to 12th May.
Ian Short, MD of Morley Glass said: "These exciting new products reflect our commitment to be continuously innovating to give installers and end-users ever more attractive and suitable integral blinds, whatever their requirement. ScreenView® and our new technology for W Smart satisfy very different needs in completely different markets, but what they both have in common is that they enable end-users to take a different approach to how they incorporate shading and privacy into their windows and doors."
As with all Uni-Blinds integral blind systems, which sit between the panes of glass in a double glazed unit, ScreenView® and W Smart are manufactured by Morley Glass and delivered nationwide at no additional cost in as little as 10-12 days.
Full design and installation support is available to help installers achieve the highest quality solution across the Uni-Blinds range. This range includes five control systems and the option to upgrade the glass specification for greater thermal or solar control performance in any of the integrated Venetian, pleated or pleated blackout blinds.
Register now for your free tickets to the FIT Show at www.fitshow.co.uk.
Find out more about Morley Glass: www.morleyglass.co.uk.