18 Mar 2019
NEW SOFTWARE BRAND SET TO MAKE A SPLASH NEW SOFTWARE BRAND SET TO MAKE A SPLASH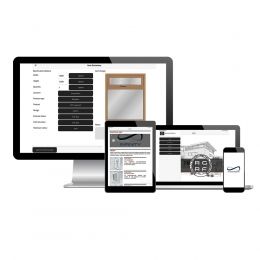 Infinity is the newest brand to enter the fenestration software market and will be making quite a splash at FIT with three brand new products promising 'endless possibilities' for both fabricators and installers.
All are designed specifically for this industry and all deliver advanced technology in a user friendly, cost effective package.
The first product, which is already available to order via the website at: www.infinitylogo.co.uk, is Capture. This is a clever website plug-in for retail companies which lets them add a personalised 'design your own window or door' function to their sites. Visitors can go online and play around with bespoke product types, designs, sizes, colours and hardware choices and then submit a 'warm' enquiry for that product instantly from the website at the clicking a button.
Showroom, a lead generation app, sits alongside Capture and enables Infinity customers to create their very own virtual showroom packed with their own marketing content – from brochures and videos to installation photos and galleries. It works on and offline so sales teams can use it face to face in the sales process even when they have no access to the internet, and homeowners can download it and access it for themselves.
The third product is Register, which Infinity are calling 'the first commercially available standard platform for manufactured product registration'. Full details of this product will be revealed at the show along with an upcoming CRM system being branded Rapport.
A spokesperson for Infinity said: "We're bringing something fresh and new to the software market but combining that with many years' experience and expertise. We're excited about FIT and think our customers will be too."