17 Feb 2020
OVERWHELMINGLY POSITIVE RESPONSE TO FIT SHOW BIENNIAL ANNOUNCEMENT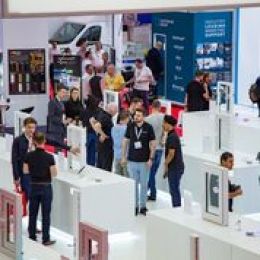 FIT Show organisers have been overwhelmed by the huge support that it has received from every corner of the industry since announcing that it would revert to a biennial frequency from May 2021.
The event, which was scheduled to take place this May, will return to the NEC from May 25 - 27 2021 occupying halls 2 & 3, following a biennial format thereafter.
Following the announcement, social media was flooded with positive messages in support of the decision and a number of brand leaders were quick to show their support by reserving stand space on the 2021 floorplan.
FIT Show event director, Nickie West said: "We have been overwhelmed by the hugely positive response from every corner of the industry since announcing our decision to revert FIT Show to a biennial frequency. People have been in touch in their droves to voice their support, with many sighting this as a brave and wise move to protect the long-term success of the industry's much loved show.
"We really do value the feedback of the FIT Show community so to have their backing fills us with confidence as we develop the 2021 campaign. I am delighted to report that a number of brand leaders who were unable to commit to 2020 have thrown their weight behind 2021. The floorplan is live on www.fitshow.co.uk and is being updated hourly."
One of the first brands to reserve a prime spot for FIT Show 2021 was leading aluminium manufacturer, AluK. Marketing Director, Sioned Roberts commented: "AluK is firmly behind the organisers' decision to revert to a two-yearly format.
"The FIT Show is important for the whole industry – whether that's presenting new products, networking, learning or just exploring new opportunities. It's definitely been an important element in AluK's growth in the trade market over recent years, and we want to see it go from strength to strength."
Elumatec, a global market leader in the manufacture of machines for processing aluminium, PVC and steel profiles, has also reserved to exhibit at FIT Show 2021. MD, Neil Parton commented: "I firmly believe the FIT Show's decision to revert to a biennial format is the right one. In the machine industry, product development isn't quick. It's important companies are given the time between shows to develop and launch new products.
"Thinking long term, the biennial format (alternating with exhibitions in Europe ) means exhibitors will get greater exposure, delegates a better experience and the FIT Show itself - better sustainability."
Epwin Group has also reserved a prime position on the FIT Show 2021 floorplan. Epwin marketing manager, Gerald Allen said: "For us, common sense has prevailed and we fully support a biennial show. There's plenty going on here as always, so we won't be short of things to show or talk about."
Morley Glass & Glazing, which specialises in the manufacture of sealed units with Screenline integral blinds, debuted at FIT Show 2019 and were contracted for FIT Show 2020 before moving across to FIT Show 2021.
Morley Glass & Glazing managing director, Ian Short said: "The FIT Show 2019 was a great success for us as first-time exhibitors. It gave us the opportunity to meet existing and new customers and we were overwhelmed by the huge interest for our Uni-Blind product range which is supported by high levels of customer service and an industry-beating 10 day delivery schedule."
"We're looking forward to the 2021 show where we will be taking significant exhibition stand space, more than double the size of our stand in 2019. We work closely with ScreenLine integral blinds and our other suppliers, and will have lots of new initiatives to share with the industry - so it will be well worth a visit."
James Lee, GGF Director of External Affairs commented: "The GGF has fully backed the FIT Show from the very start going back to 2013 and will continue to support and promote the show for 2021. This decision has many advantages for our industry which will no doubt be affected by the transition of Brexit over the next twelve months.
"With the FIT Show now scheduled for 2021, it will give companies more time to plan and budget for the UK's premier fair for the glass, glazing and fenestration industries. The GGF will have a brand presence at the show and we hope to be able to share more of our plans in the next few months."
C.A.B's Justin Ratcliffe said: "We fully support FIT Show's decision to revert the event to an 'every other year' frequency. I am excited to see that a good number of CAB members have already signed up to FIT Show 2021 and expect to see this increase over the coming weeks and months."
FIT Show is the UK's number one, award-winning showcase for the glass, glazing, window, door, hardware and components industry. FIT Show will return to the NEC 25 - 27 May 2021, Halls 2 and 3.