29 Apr 2019
PAINTED HINGE EDGE AS STANDARD FROM ENTRANCE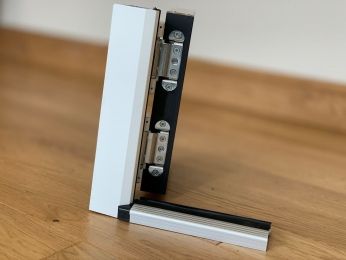 Entrance Composite Door Solutions are now offering a painted hinge edge as standard for their range of prepped GRP composite door slabs, which now perfectly match the finish to the external door face.
With most prepped slabs supplied in a raw finish to the hinge edge and even other timber composite doors with limited with just a few edgebanding colour options, this product design detail on painted doors only is yet another reason why Entrance are growing so quickly, as they move into larger premises. For consumers, with composite door ticket prices from £1,200 to nearly £3,000, the white, caramel or dark edgebanding is now starting to look a little budget claims Entrance.
Entrance Composite Door Solutions have clearly set out their product proposition as a one-stop shop to the composite door manufacturing sector and are encouraging fabricators to look at the opportunities in terms of market growth, low entry cost and margin. Each customer benefits from a bespoke manufacturing package of prepped slabs, glazing, cassettes, hardware, along with a marketing support package that's been bolstered by a new 72-page brochure.
Greg Kelly, managing director of Entrance Composite Door Solutions commented: 'Our customers sell on the merits of the care and attention we have to them and in the production of prepped slabs and our package as a whole. With the hardware and cassettes, we're the ultimate one-stop shop for composite door manufacturing and can actively help customers entering the market.'
Please visit stand N15 at the FIT Show this May to see the product finish on all Entrance doors and for all other information please visit www.entranceway.co.uk, e-mail customerservice@entrancecds.com or call 0115 982 7744. You can also follow them on Twitter @EntranceCDS.