16 May 2023
Prefix Systems Launches new outdoor living range at FIT SHOW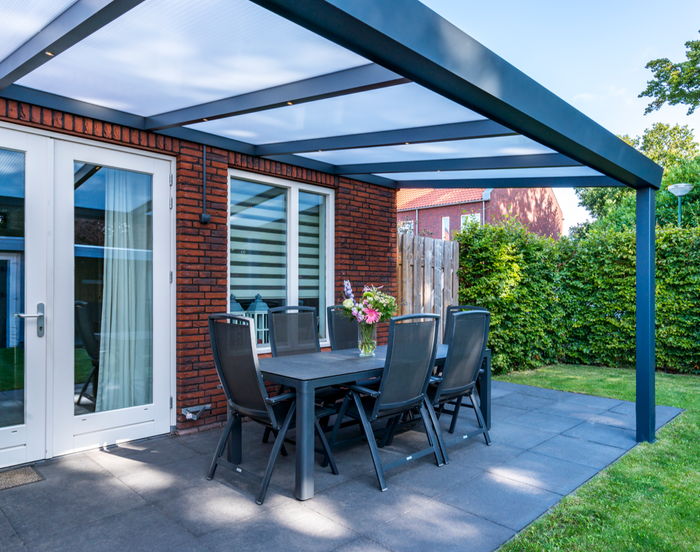 Prefix Systems is thrilled to announce the launch of our latest innovation in the home extension market at the FIT Show 2023. As we continue to witness a shift towards outdoor living and a desire for a closer connection with nature, our new product range aims to fulfill the needs of consumers seeking sheltered outdoor spaces and detached garden rooms.
One of the key highlights of our product line-up is the modern contemporary verandas. These verandas offer a seamless blend of indoor and outdoor living, providing a sheltered and enclosed space that can be adapted to various climatic conditions. Equipped with sliding glass doors, side screens and LED lighting, they create an impressive outdoor room that remains connected to the main house. Their sleek and modern designs, these verandas are not only aesthetically pleasing but also simple to install, ensuring a hassle-free experience for our customers.
Additionally, we recognise the growing demand for traditional verandas and canopies with glazed roofs. Building upon the legacy of conservatories, we have reinvented and upgraded these structures to suit new applications. By incorporating high-quality materials and improved performance, our glazed roofs offer a contemporary twist while retaining the charm and functionality of their humble beginnings. For those seeking a separate space detached from the main house, we present our Garden Studios and Pergolas. These structures provide versatile solutions for creating dedicated areas within the garden. Whether it's an office space or a leisure area, our Garden Studios and Pergolas offer a range of functions that make valuable additions to any home.
Prefix Systems takes pride in offering a comprehensive range of home extension solutions, including solid roofs, orangery and glazed extensions, alongside our outdoor living range. With our OPAL aluminium windows and doors, we provide customers with a complete package to fulfil their desires for a well-designed and functional home extension.
We are excited to be part of the evolution of the glazed extension market. With the advancement in technology, materials, and aesthetics, there has never been a better time to explore the possibilities for extending your living spaces. Prefix Systems is dedicated to helping you bring your customers' dreams to life.
Visit our stand V31 at the FIT Show 2023 to witness our latest innovations and discover how we can assist you in creating the perfect home extension solution.