27 Mar 2019
PROFINE BECOMES RECORD MAIN SPONSOR OF 1. FSV MAINZ 05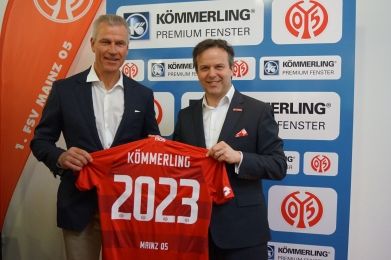 profine Group, with its KÖMMERLING brand have already been a sponsorship partner for five years of Bundesliga football club 1. FSV Mainz 05 and since 2015 as the shirt sponsor of the team. Now they have extended this commitment for another four years until 2023.
The contract had originally run until the end of the season in 2019. But both partners have signed the new contract on 18th March 2019 as part of the visit of the Mainz 05 professional team at profine's plant in Pirmasens, Germany. This is the longest commitment of a partner as main and shirt sponsor in the history of professional football at Mainz 05.
Dr. Peter Mrosik, owner and CEO of profine Group: "We have made important strategic decisions in recent years. We have decided to actively build up the KÖMMERLING name, position it as a premium window brand and invest in end customer communication to support our partners in the market. Our partnership with Mainz 05 is a very important element and is very successful.'
He continued: 'Not only did we increase brand awareness and improve our image, we also receive very positive feedback from our partners on our strategy. Our partnership goes beyond pure sponsorship and has become a true brand partnership. Like Mainz 05, we see a very positive development based on our own competences and clear strategy and share values ​​such as responsibility and sustainability. Under their new leadership, Mainz 05 has positioned itself forward-looking and is thus the ideal partner for us to achieve our own goals.'
Dr. Jan Lehmann, commercial director of 1. FSV Mainz 05 concluded: 'The expansion of the partnership with profine and its KÖMMERLING brand, which we have been promoting together is a strong commitment to Mainz 05. It is a very good example that a proven partnership can once again be raised to a higher level.
He continued: 'We share common values ​​and goals. The cooperation with our main and shirt sponsor has developed into a genuine brand partnership, which is already reflected in a number of joint projects, such as the KOMMERLING "window seat" in the OPEL ARENA.'
KÖMMERLING will be harnessing this unique partnership with Mainz 05 at the FIT Show with a themed bar and two separate competitions to win a VIP trip to a Bundesliga match. If you want to find out more about this and other business initiatives then please visit stand N30 at the show which will be held at the NEC, Birmingham 21-23rd May, 2019. For all other information call 01543 444900, e-mail enquiries@profine-group.com or visit www.kommerling.co.uk. You can also follow them on Twitter @kommerling_uk.