24 Jun 2019
PROFINE CEO AND OWNER FLIES IN FOR FIT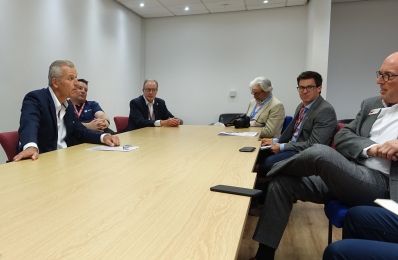 Dr Peter Mrosik, CEO and owner of profine Group which includes the KÖMMERLING brand, flew into the FIT Show to visit the staff, key customers and to host what was to be a very open and informative industry media question and answer session.
After an award-winning marketing campaign at the show and having also signed up a number of new business prospects before and during the show, the arrival of the group owner was particularly welcomed and a positive experience for all. It was also the second time that Dr Mrosik had visited the FIT Show after his arrival on the KÖMMERLING stand back in 2017.
The Q&A was also an opportunity for Dr Mrosik and Gareth Jones, managing director of profine UK, to address the media over Brexit and their long-term strategy for the UK. From a Brexit perspective, the group and the UK subsidiary have run through multiple scenarios with business analysts from Hidden Peak Capital and have put in place robust plans and contingencies for all possible outcomes.
But much of the Q&A centred around the group's full commitment to the UK as a primary market and firm plans to extrude in the near future. Dr Mrosik commented: 'The UK is super important for us as a group regardless of the political and economic outcome of Brexit. We're also actively looking at extruding in the UK as it makes sense, particularly after such a strong presence at the FIT Show and the impressive new business success this year.'
Dr Mrosik's comments were also echoed by Gareth Jones who concluded: 'With the resources of a €700million group behind us we're well set for the future and that includes our plans to extrude here. We've ignited the KÖMMERLING brand in the eyes of the industry and the staff and existing customers are genuinely excited about our prospects.
He continued: 'We're now into double digits with the number of new fabricators that have decided to come along and join us this year alone, which is pleasing for us as we look to build considerable momentum with the KÖMMERLING brand.'
Look out for the #ComeAlong campaign on Twitter @kommerling_uk and for all other information visit www.kommerling.co.uk, e-mail enquiries@profine-group.com or call 01543 444900.