02 Mar 2021
PURPLEX MARKETING & INSIGHT DATA ANNOUNCE MAJOR PRESENCE AT FIT SHOW 21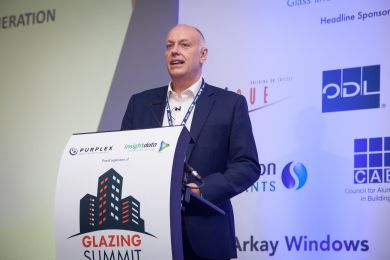 Two of the fenestration industry's leading brands have announced that they will have a major presence at FIT Show 2021 (September 26 - 28, NEC Birmingham).
Purplex Marketing and Insight Data, part of the Ascot Group, will headline the 'Marketing Village' at FIT Show, as well as having a standalone presence with two exhibition stands.
The 'Marketing Village' will provide a central point for exhibitors and visitors to access a dedicated programme of marketing-specific learning material, all headed up by experts from Purplex Marketing, Insight Data and guest speakers.
FIT Show event director, Nickie West said: "Purplex Marketing and Insight Data are at the forefront of the industry when it comes to delivering an end-to-end marketing solution, powered by the most up-to-date data. It was a natural decision for us to partner with them in this way. In doing so, our audience will be able to benefit from their expertise via the new 'Marketing Village' as well as being able to speak with the expert teams from both brands on their respective stands."
Andrew Scott, MD of Purplex Marketing & Insight Data, added: "After an extended period of restricted face-to-face business, FIT Show is going to come at just the right time for the industry. We're excited to bring our end-to-end marketing solution to FIT Show. and can't wait for everyone to see what we have planned for the Marketing Village."
The announcement forms part of a wider partnership between FIT Show, Purplex Marketing, Insight Data and its Glazing Summit conference. The companies have pledged to work together to deliver these two main events in the industry calendar.
The Glazing Summit conference, organised by Insight Data and Purplex Marketing, brings together leaders from across the supply chain to discuss best-practice and debate industry trends and developments. The next event will take place on Thursday 21st October 2021 at the Edgbaston Conference Centre, Birmingham.
Andrew Scott added: "The fact that the Glazing Summit follows FIT Show presents a further opportunity to bring the whole industry back together. The timing is perfect. People will be able to get a taster of what to expect from the Glazing Summit when it returns to Edgbaston Stadium soon after. Without giving too much away, we've got some really exciting content, speakers and features lined."
Speaking about FIT Show and its support of the upcoming Glazing Summit, Nickie added: "We were really impressed by the quality of content delivered at the first two Glazing Summits and knew we wanted to throw our weight behind its future editions. It perfectly complements FIT Show and serves as the only other major platform for our industry to come together, share best practice and raise the bar."
Purplex Marketing specialises in marketing for the construction, building products and home improvement industries, and marketing data and CRM software solution. Insight Data is the leading provider of marketing data and CRM software exclusively to the UK construction, fenestration and glazing industries.
FIT Show is the UK's number one, award-winning showcase for the glass, glazing, window, door, hardware and components industry. FIT Show will return to the NEC 26 - 28 September 2021, Halls 17, 18 & 19.