06 May 2022
QUICKSLIDE'S LAST (MINUTE) STAND!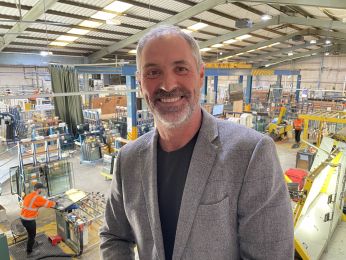 Taking the opportunity to book a last minute stand at this year's FIT Show (10th – 12th May 2022, NEC), Quickslide's Chairman Adrian Barraclough has declared: "We're not here to sell windows, we're here to make sure you can". With the Brighouse, Yorkshire window fabricator taking space at the first FIT Show since 2019 just 10 days before the event opens, Adrian's stance reflects 6 months of his social media activity during which he has posted videos recording his intensive tour of Quickslide customers.
The FIT Show stand is an extension of that, he says: "We have taken this large space at the FIT Show because we want to take advantage of so many people being together at the same time, under the same roof…I have thoroughly enjoyed getting out to see customers and potential customers since we were able to interact with people again. It has been uplifting and now we have the opportunity to meet more people at the FIT Show," added Adrian.
The stand will feature a tall structure to act as a beacon to the company's existing customers and those interested in talking about Quickslide's most comprehensive range of windows and doors ever, in aluminium and PVC-U. And especially the firm's market leading range of VS windows, with which Quickslide is synonymous: "We will of course show our core product on the stand," explained Adrian, "but this is about talking, meeting people, and discussing how we can grow together. We will have three fantastic meeting spaces where visitors can relax. And everyone is welcome! Just come and chill out with us…it's one of the things I love about this industry."
Underpinning Quickslide's aim to support the success of their Trade Partners, there will be displays showing Quickslide's latest addition to their marketing and showroom support package, the latter of which will allow visitors to enjoy the experience just as homeowners would: "There is nothing like face-to-face at every level of the supply chain," said Adrian. "And the FIT Show allows that, for thousands of the industry's installers, fabricators, and suppliers to get together. And after the strains and limitations of the past two years, this is the perfect opportunity to put that behind us and get down to business."
Quickslide's Legacy sash windows can also be spotted on Morley Glass and Glazpart's stands at the FIT Show.