04 May 2022
RONJACK TO CELEBRATE RETURN OF FIT SHOW WITH INCREDIBLE COMPETITION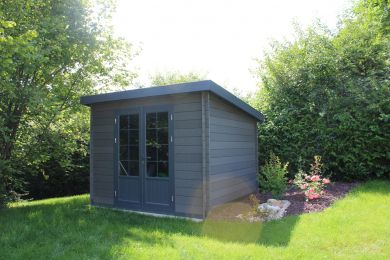 Ronjack, one of the largest suppliers and stockists of superior composite decking and fencing supplies in the UK, is giving visitors to FIT Show 2022 the opportunity to win a brand new garden room.
The Seymour is part of Ronjack's all new, exclusive collection of robust, maintenance free garden buildings – The Seymour Collection, with prices starting from MSRP including VAT. £5,575.00. Distribution discounts and opportunities are also available, as well as marketing and lead generation assistance – this can be discussed directly with the Ronjack team at the show.
Coming complete with DOUBLE glazed aluminium fully lockable glazed French doors and wall caps to complete a seam free finish, The Seymour is made with 58% milled hardwood, 32% fully recycled HDPE and 10% additives, meaning a 90% recycled product.
Maintenance free, the composite wall boards are moulded, dyed, treated with anti-fungal agents and finished with additives to reduce damaging effects from UV rays and other types of typical British weather, before then being pre-cut for ease of installation, taking only five hours to build.
Weighing 650kg and with a floor area of 2900mm x 2900mm, this exclusive product boasts many benefits including being FSC certified and Eco friendly, as well as UV and weather resistant.
For a chance to win the extremely popular Seymour, visitors to Stand E7 must simply guess how many decking clips are in a bowl and leave their details, with the lucky winner being picked on Thursday 19th May 2022.
Katie Morley, Managing Director at Ronjack, commented: "We are so excited and proud to be exhibiting at FIT Show this year, and we wanted to do something extra special to mark the return of the show, which unfortunately has had to be cancelled over the last three years.
"We have been overwhelmed by the response to our brand new garden rooms, up and down the country, and what better way to showcase them to even more people by giving them the chance to win one!"
Garden rooms have hugely grown in popularity since COVID-19 changed the way we work and live, with The Seymour the ideal location to set up your home office.
FIT Show 2022 takes place between 10-12 May 2022 at the NEC in Birmingham, and is the UK's biggest and best trade show for the windows, doors, glazing and components industry, with over 200 suppliers exhibiting over the three days.
With the show taking place for the first time in three years due to the COVID-19 pandemic, Ronjack are aiming to go even bigger and better this year, with a whopping 12-metre stand which will feature the much sought after Seymour garden room, as well as their top ranges of Ronjack, Neular and Oakio products.
Ronjack, based in Radcliffe, Greater Manchester, has a team with years of experience in garden landscaping, design and manufacturing, and are exclusive distributors of Neular and Oakio here in the UK. You can learn more about Ronjack and their products here: https://www.ronjack.co.uk/