27 Jun 2023
ROSEVIEW SHOWS IT ALL AT FIT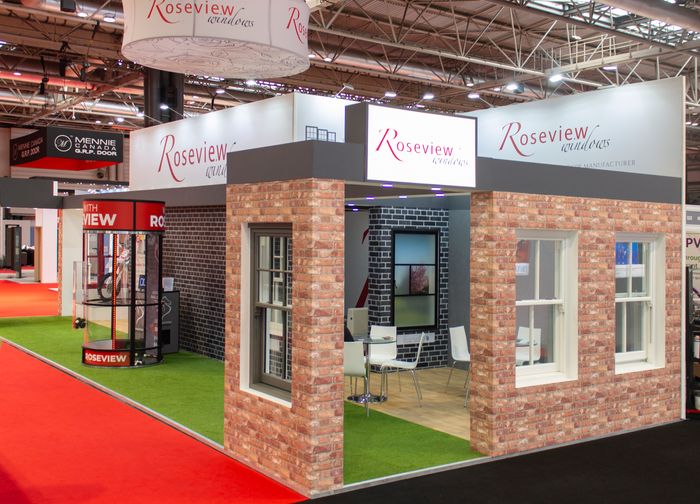 Following a highly successful FIT Show, Roseview Windows has confirmed that it has already booked its place at the next show in 2025.
The specialist manufacturer showed the versatility of its range by bringing seven different sash windows and two secondary glazing units to the show, in various formats, configurations and colours. Several new features, such as the innovative "Seahorse" sash horn and conservation-grade Chamber Cover were also on show, offering visitors the first chance to see them live.
Roseview director Mike Bygrave comments: "We've exhibited at every FIT Show, so it's an important date in our calendar. This year was no different and we were delighted to see so many visitors come and see us and what we have to offer. We like to do things a bit differently, and there was a real energy on the stand. It was a very successful show for us.
"Our focus at FIT Show is to demonstrate our latest developments—there are always plenty of new things to see—while taking the opportunity to talk face-to-face with customers and potential new customers.
"But it's not just about what we already offer. This year we showed a prototype of a new trickle vent solution we're developing specifically for sash windows, so we could gather industry feedback. It proved to be very popular. Whether you're one of our customers or not, if you're interested in sash windows we're interested in your ideas and opinions."
FIT Show event director, Nickie West said: "I'm thrilled that Roseview will be joining us again for FIT Show 2025, hot on the heels of their brilliant showcase this May. Roseview have exhibited at every single FIT Show since we launched and we really value their ongoing support.
"Mike and the team always pull out all the stops for our visitors, delivering a brilliant showcase of their sliding sash range for installers, and this year was no exception. The brand partnership with Leon Day tied in perfectly with our ten-year anniversary campaign and I'm excited to see how they build on this for 2025. A very warm welcome back to a key member of our FIT Show family."