29 May 2019
SEALING SUCCESS FOR HODGSON AT FIT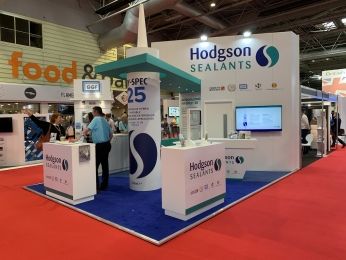 Hodgson Sealants had a hugely successful debut at the FIT Show, launching their next generation HY-SPEC 25 hybrid sealant for installers to great acclaim, along with presenting their proven heritage glazing systems.
HY-SPEC 25 is superior to typical silicone sealants in that it is paintable, UV stable, suitable for interior or exterior use, can be applied in damp conditions and is permanently elastic. Available in white, black, grey, anthracite grey and brown, it's been designed for the glazing installer looking for a better next generation product and it also boasts a sector leading 18-month shelf life.
With a super-size HY-SPEC 25 cartridge as the focal point on the stand, Hodgson Sealants were making a clear statement about the product launch, with the formulation developed and manufactured in the UK from their Hull facility. There were physical application samples thanks to a Dulux taster pot, showing the true paintable nature of the new development.
In addition to the launch of HY-SPEC 25 and working with long-term customer Slenderline Glass, Hodgson Sealants also showed off their heritage glazing systems and heritage putty, while the stand also promoted a number of memberships of key trade bodies. These included the GGF, British Woodworking Association and the Wooden Window Alliance, along with the promotion of being an active participant in the Made in Britain initiative.
Charles Hodgson, managing director of Hodgson Sealants commented: 'We had a wonderful show and the interest in HY-SPEC 25 was particularly strong with installers eager to upgrade their existing silicones to a better next generation product. As a UK manufacturer, it was also important for us to present the business in front of a large target audience and show them the depth of our product range and capabilities for innovation.
For further information please visit www.hodgsonsealants.com and you can follow them on Twitter @HodgsonSealants.