04 Apr 2019
SEE PERFECT TIMBERWELD® CORNERS AT FIT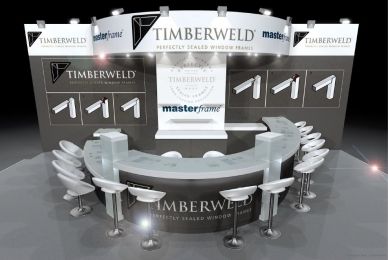 Fabricators and installers can see just how authentic the Timberweld® timber butt-joint effect looks at this year's FIT show. Three stunning sash windows from Masterframe, and four beautiful casement flush sash windows from Timberweld licensees will be on display on stand I40, Hall 6.
Timberweld "is strong, durable and can be manufactured cost-effectively at scale," explains Alan Burgess, Chairman of Masterframe and one of the innovators behind Timberweld. The patented method of jointing makes perfect corners and creates a butt-joint effect on both sides of a window. "It creates the most authentic timber butt joint appearance, which is ideal for flush sashes and for any manufacturer looking to get products into the lucrative and highly sensitive heritage market".
"The FIT Show is a first-class exhibition and expected to be bigger and better than ever this year," continues Alan. "We can't wait to show off Timberweld to everyone we can! Timberweld licensees – which include Aztec, John Fredericks and Affordable Windows Systems - will be on hand to talk visitors through the technology and explain how they are taking advantage of the growing trend for flush sashes."
Timberweld®, which is also the main sponsor of FIT Show TV, will be holding a Gin Night on the stand on 21st May and hosting daily afternoon 'Tea at the FITz' for visitors.
"Book an appointment in advance to suit your diary or, if you prefer, just drop by when you get five minutes. Either way it will be our pleasure to show you around," concludes Alan. "Just call 01376 510410 or email perfectcorners@timberweld.co.uk."
To find out more about Timberweld, visit www.timberweld.co.uk.