04 Apr 2019
SHOWSTOPPING LEARNING PROGRAMME ANNOUNCED FOR FIT SHOW 2019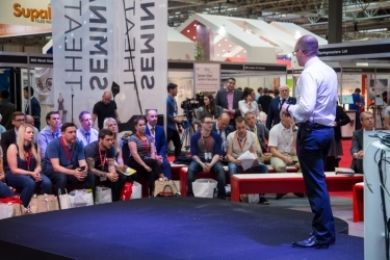 FIT Show, the UK's only dedicated event for the glass and glazing industry, has announced the launch of its free three-day learning programme for its 2019 show (Birmingham NEC, May 21st - 23rd).
The showstopping programme is made up of over 20 hours of learning content, with 50 sessions that have been developed to reflect the wants and needs of the industry, as well as FIT Show's broadened audience.
Sessions will tackle key industry issues such as the skills gap, and bring expert content in the form of CPD certified seminars. Alongside this, the programme will deliver practical advice through workshops, business clinics and practical product demonstrations.
The full schedule, which will kick start at 10.30am on the opening day of the show (Tuesday 21st May) can be accessed via the FIT Show website. Visitors can choose from two theatres, the 'Insight Theatre' and 'Discovery Theatre', with sessions running concurrently across the three days.
FIT Show 2019 visitors can expect a diverse mix of topics, including tackling mental health in construction, driving leads and making your business more profitable, guidance on legislative changes, upskilling, automation, flat glass processing, smart home technology and much more.
Practical product and tool demonstrations will be delivered by the likes of BBC Young Carpenter of the Year and multi-award-winning tradesman, Tibby Singh. Business clinics will be delivered by various exhibitors on their stands.
A special marketing village will be hosted across the three days by Insight Data and Purplex Marketing. Visitors will be able to access firsthand information about how to better market their business, generate more sales leads, how to maximise data, and receive support and practical guidance about on and offline marketing channels such as social media.
On the third and final day of the show (Thursday 23rd May), the learning programme will commence at 10.00am with the focus shifting to skills under the badge of 'Skills Thursday'. Skills Thursday will include content specifically designed to attract new talent into the fenestration industry in partnership with a number of key training and education provides, as well as Building Our Skills.
Employers will be able to receive advice about attracting the right talent, salary banding, unlocking funding for schemes such as apprenticeships and then how to retain that talent and upskills the workforce they have.
For college leavers, ex servicemen and career changers, there will be seminars and panel debates designed to showcase the length and breadth of opportunities that a career within fenestrations presents. Content will include CV writing advice, guidance on apprenticeships and training initiatives and real life success stories from people within the industry.
FIT Show Event Director, Nickie West commented: "We're extremely proud of the content that has been curated for the FIT Show 2019 learning programme. We've been inundated with support from our exhibitors and experts from across the industry who have offered their guidance on the topics that need to be covered.
"Across the two theatres, we have compiled a showstopping programme which has been designed to bring the right people together to debate key industry issues, such as the skills gap, as well as delivering CPD approved content that will help our visitors do better business when they leave the show.
"There is less focus on brands, and a stronger emphasis on delivering rich and diverse advice, support, guidance and engaging content that we know will really add value to our visitors. And unlike previous years, much of the content will be one-off so if visitors miss it, then they run the risk of missing out!"