12 May 2023
Strongdor Challenges FIT Show 2023 Visitors to 'Panic or Escape'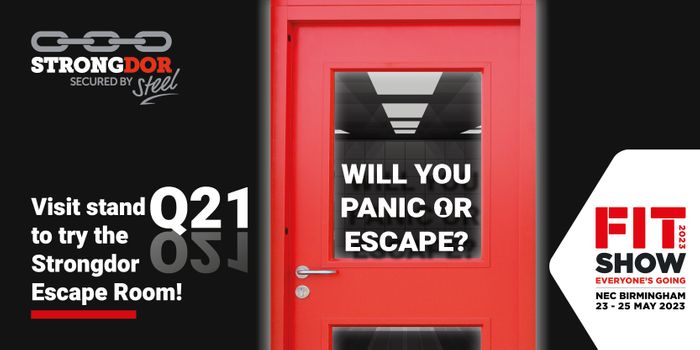 Hot on the heels of its storming debut at last year's FIT Show, Strongdor has announced that it will return to FIT Show 2023 (Birmingham NEC, 23 - 25 May.)
The brand will be looking to build on the success of its FIT Show 2022 debut, which generated £1m worth of quotations. Strongdor Will be showcasing their new and improved fire-rated steel doors at FIT Show, alongside its market leading range of steel door solutions.
Visitors to the Strongdor stand will be able to see:
● UKCA | CE Marked fire-rated steel door with full-size louvre panel and electric locking
● Fire-rated steel door with high-security Mico Tindall hardware
● Fire and thermally rated steel door with u-value as low as 1.6 W/m2K
Visitors to the Strongdor stand will also be able to take part in its "Panic or Escape" room which will involve a number of timed challenges in a purpose built escape room. Each challenge has been carefully themed to reflect its range of products. The overall winner each day will be in with the chance to win a Milwaukee Cordless Combi Drill & Impact Driver.
Strongdor will also feature on FIT Show's brand new Installer Hub with a live installation of its Firedor Thermal door, with u-value as low as 1.6 W/m2K. The demonstration will see Strongdor's technical experts try and beat the clock by installing the door within 30 minutes. Visitors can watch the demonstration at 12.45 on Tuesday 23rd and Wednesday 24th May.
Speaking about its FIT Show return, Strongdor marketing director, Sarah Cooper said: "We are seriously excited to get back to FIT Show and build on the success of our 2022 debut.
"We've worked extremely hard on our new product development over the last twelve months and have worked closely with our stand contractors to develop a concept that will showcase our range of products, engage visitors and drill home our product benefits.
"Those who dare to take on the 'Panic or Escape' room are in for a real treat. As well as learning more about Strongdor, meeting the team and our special guest Theodor, they could take home the top prize of a Milwaukee Cordless Combi Drill & Impact Driver!"
A stellar lineup of door-focused brands will exhibit at the event and help meet demand from the industry. Amongst the lineup of over 200 brands from 20 countries will be exhibitors showcasing the latest entrance solutions, from composite, steel and fire doors through to rolling garage and bifolding for internal and external application.
Doors in general feature prominently within the FIT Show visitor 'wish list', with composite doors, internal doors, garage doors and fire doors all voted within the top ten. Other products that featured amongst the top include aluminium windows, aluminium systems, door hardware and furniture, tools, lanterns, adhesives and sealants.
FIT Show event director, Nickie West adds: "Doors have held steady at the top of the visitor shopping list for FIT Show and I'm delighted that we're able to meet this demand with such a strong lineup of quality door providers, which includes Strongdor.
"Strongdor had a hugely successful first FIT Show and I am excited to see how they build on this a FIT Show 2023. The creativity and imagination they have put into bringing their products to life leaves me in no doubt that our visitors are in for a real treat this May."
FIT Show is the UK's leading trade show for the window, doors, glass, hardware and components industry. FIT Show returns to the NEC Birmingham from 23 - 25 May, 2023 for its tenth year anniversary edition. Visitors can register to attend for free at www.fitshow.co.uk.