14 Jul 2023
STUGA MACHINERY – A FITSHOW SUCCESS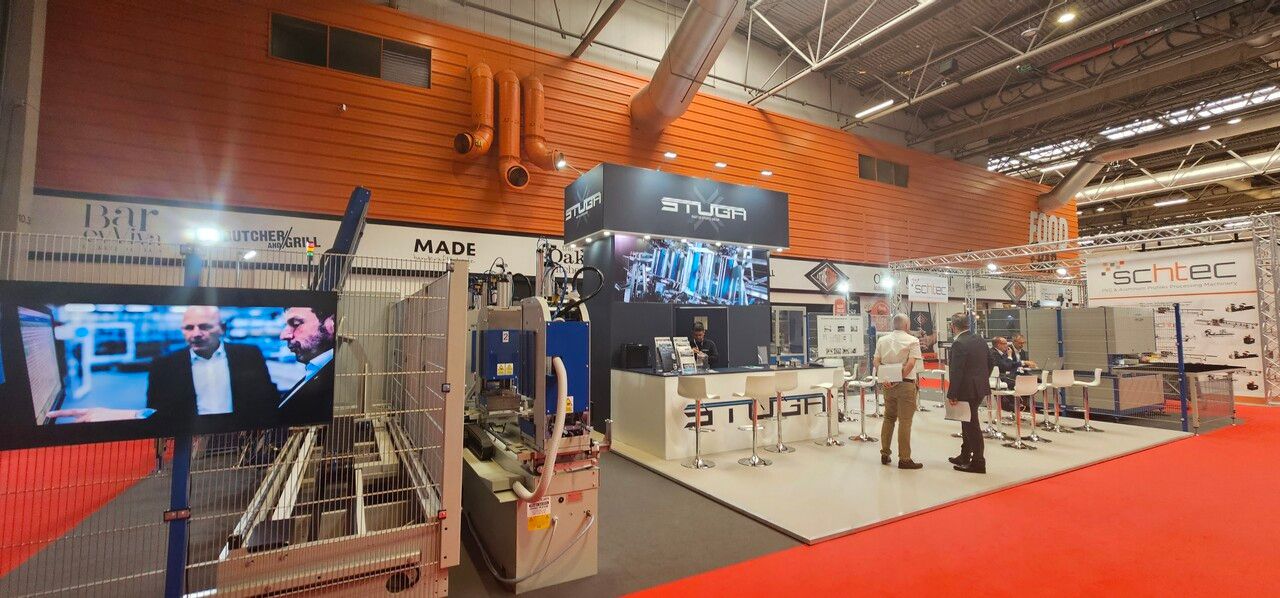 A roaring success for Stuga! With three of the four machines featured on the Stuga stand being installed in their new homes following the show, managing director Ed Williams couldn't be happier; "being my first FITShow since joining Stuga, I was really pleased with the high turnout of visitors and commitment from hr Stuga team. After the success of the 2023 show, it made sense to secure a larger, more central position for 2025." says Williams.
The team from Tradeglaze (Lincoln) Ltd were snapped standing proudly alongside the STUGA team and their new investment in the latest generation Autoflow-2 MK4. Tradeglaze Production Manager Kenny King also joined his team to get a sneak peek of their eagerly anticipated purchase. "The new, fully automated CNC sawing and machining centre is a game-changer for us. Capable of producing all saw cuts including arrowheads and espags on either side of profile, it optimises and further improves the precision of our fabrication process. It will also decrease wastage of profile, meaning we will be able to further reduce our impact on the environment by sending less material for recycling." says King.
The newly re-developed Autoflow-2 MK4 was of particular interest during the show, with many visitors keen to see demonstrations of the fantastic new features, such as the introduction of an adaptive bar gripper technology, integrated label applicator and technically-advanced infeed table.
The Autoflow was not the only machine to be launched at the show after a re-development phase: German giant Stürtz Maschinenbau GmbH – parent company of Stuga Machinery Ltd - also showcased their TXR-3 Transom Corner Cleaner and the VSM-P Vertical Frame & Sash Welder, which has been sold to SWC Trade Frames Ltd in Scarborough. Both machines have been redesigned to suit the latest industry standards and specifically for the demands of the UK market.
Stuga – who as part of the Stürtz Group are agents for GRAF in the UK - also had the pleasure of showcasing the SL5 Inline Welder, which was sold to GRM Windows in Pontyclun.
Since Sturtz's acquisition of Stuga Machinery Ltd back in 2022, the company has also gone on to add several new faces to the workforce, so it was a great opportunity for the team to get out there and meet some of the customers.
With the show over, there's still plenty to be done and the company are excited to see what 2025 will bring!
For more information about Stuga Machinery Limited click here or for more information about Stürtz click here