27 Mar 2019
TEKNOS UK ANNOUNCES NEW MANAGING DIRECTOR, EMMA MOORE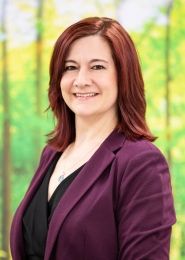 Emma Moore, the Finance Director at Teknos GBI for the past five years, has been appointed Managing Director. Emma takes the helm from Michelle Alcock who has relocated to the USA to run and develop Teknos USA.
Emma originally joined Teknos UK Ltd. in April 2014 as Finance Manager and gradually took on full responsibilities for Human Resource Management, Customer Service and Facilities Management.
Teknos GBI has ambitious growth plans and Emma will be driving these forward as part of the overall Teknos Group target to be in the top 15 coatings companies in the world by 2025, through fast and profitable growth.
Emma says, "It's an exciting time to be taking on this role. Not only are we in brand new offices, we also have a host of new and innovative products to bring to market such as Pento Fluid Silverwood for the cladding market and the FIRA 'Severe'-rated Platin 4545 for furniture and flooring. Building on our success in the industrial wood and joinery sector, we're also bringing our industrial paints for GRP and PVC to window and door manufacturers. If you are visiting the FIT Show this year, you can see these first-hand on our stand. Our distributor network has expanded rapidly in the last few months and we now have 13 merchants stocking our Decorative range across the UK and ROI. They have been hand-picked for the knowledge and service levels they give to their customers; further expansion of this network of high quality TeknosPro merchants is one of my priorities in the coming months."
The Teknos Group has ambitions to become the most sustainable coating solution provider in the world and is introducing sustainability into every business function.
Teknos GBI's new head office in Bicester, Oxfordshire is a tangible example of this, by encouraging energy efficiency, maximising productivity to reduce waste and ensuring safe working practices.
For further information, and to find a full list of stockists, visit http://www.teknos.co.uk/ or call Teknos on 01869 208005.