01 Jun 2023
Tenth year of FIT Show proves best ever for Morley Glass!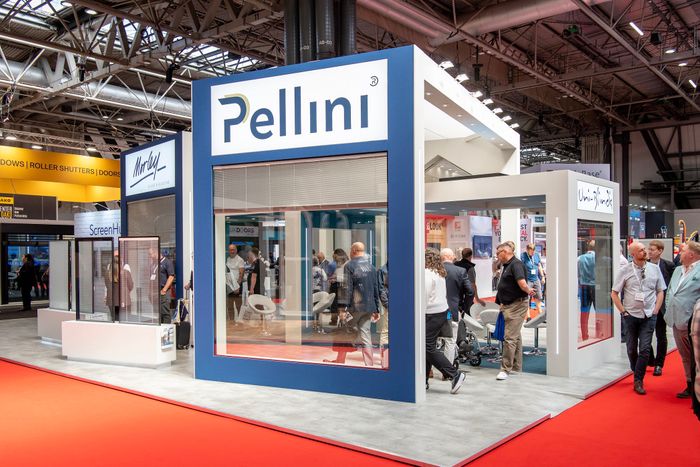 The 2023 FIT Show was the busiest show to date for Morley Glass, whose team were inundated with interest in their premium quality shading and privacy solutions, especially from installers seeking to unlock the sales potential of its market leading, easy to install systems.
So successful was this tenth year of the FIT Show that Morley Glass has already announced it will exhibit at the next event in 2025.
This year's show was particularly special for Morley Glass as it also marked its 25th anniversary, a milestone which the team celebrated with the industry in a variety of ways. This included being a major sponsor of the show and the PIGS networking evening, and through a free chocolate bar prize draw that proved hugely popular with visitors.
Twenty-five FIT Show visitors won a prize after picking up and unwrapping one of the winning chocolate bars, including Bradley Gaunt from Made for Trade Windows who won a package of four motorised Uni-Blinds® integral blinds worth more than £1000. The prize draw was, however, just one of the big attractions of the Morley Glass stand created by White Rose Exhibitions, which also featured a stunning 2.0m x 2.5m video wall and a host of eye-catching Uni-Blinds® integral blind displays.
Over three packed days the stars of the show were undoubtedly the Morley Glass systems and products that were making their debut. Its new integral blind system for flat glass rooflights piqued the interest of installers through its ability to offer a balance of long term operational reliability with elegant looks, and the new switchable smart glass system appealed to many installers working on high-end residential projects.
Delighted with the show, Ian Short, MD of Morley Glass commented: "What an amazing FIT Show – so much so that we are already looking forward to the next one in 2025! The turnout was fantastic, and it was good to see a continuous flow of visitors to our stand, which has helped us build some exciting new relationships, as well as giving us the opportunity to catch up with our existing customers and industry partners.
"We've spent 25 years developing a range of premium privacy and shading products and systems which we passionately believe offer massive sales potential to installers. As anyone who visited us at the FIT Show will have seen, we partner with the world's leading manufacturers including ScreenLine® integral blind systems manufacturer Pellini S.p.A. which means our customers can offer end-users the highest quality products of their kind and I think that is only going become even more important in a more competitive window and door market."
As it did in 2022, Morley Glass deployed an extensive marketing campaign to support its presence at the FIT Show, with a particular focus on social media. So successful was this creative campaign that the company generated more VIP ticket registrations via its unique link than any other exhibitor, even surpassing its 2022 figure!
Morley Glass is the world's largest manufacturer of bespoke integral blinds created using ScreenLine® systems. Its Uni-Blinds® products are manufactured at its Leeds factory and supplied to customers in the shortest lead times, with complimentary nationwide delivery in as little as 10-12 working days when ordered by 10am on Thursdays.
Uni-Blinds® installers benefit from a full suite of marketing and point-of-sale assets, including blind sample packs and brochures, along with unrivalled technical support for total peace of mind.
Find out more at www.morleyglass.co.uk.
ENDS
For further media information please contact:
Alan Markham, Markham PR & Marketing Ltd
T. 07983 773375
E. alan@markhampr.co.uk