06 May 2022
THREE MONTHS UNLIMITED USE FOR JUST £1/MONTH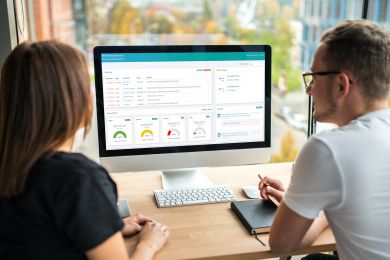 As excitement builds up to the launch of the 2022 FIT Show at the NEC in Birmingham, Business Pilot have announced their biggest-ever giveaway: a show-exclusive three months' unlimited use, for unlimited users, for just £1 a month.
"There are loads of developments at Business Pilot right now, and we want to share them with as many people as possible," Business Pilot's MD Elton Boocock said. "And what better place to announce this great offer than at the FIT Show, where we be talking to as many installers who walk through those doors as possible."
Business Pilot was launched at the FIT Show in 2019, and has since seen its popularity soar as business leaders recognise the many benefits the software can bring to their installation businesses.
Business Pilot is completely cloud-based, which means that several people from the same company can manage a project seamlessly and from multiple locations. The CRM tool follows a project from lead to completion, with complete oversight of all elements, including sales visits, surveys, and installation. All information is logged in the same place, including accounts, relevant emails, and technical drawings.
"It's almost embarrassing to say this, but selling Business Pilot is quite easy, because installation companies very quickly recognise how even the smallest feature within the CRM tool can transform the way they are run," Elton said.
"For some it can be the complete overview they have of the financial side of things, and the ability to spot where inefficiencies are eating into profit margins. While others love the drag-and-drop simplicity of scheduling, and keeping all installation teams busy but not overworked."
Business Pilot is updated on a regular basis, introducing new features that take effect immediately thanks to it being an online platform.
For example, FENSA-registered installers can now register their installations with the government-authorised scheme with a click of a button, without having to leave the software and re-enter a project's information elsewhere – saving time and reducing errors in the process.
Similarly, users of Tommy Trinder software can link their accounts with Business Pilot. From Business Pilot you can send all information to Framepoint, and then also see all your created quotes directly inside your CRM tool for better, more seamless management.
There are similar integrations with CERTASS and Windowlink in development, which promise to improve efficiencies for installation companies while increasing profit margin.
Business Pilot's 108m2 stand is expected to be a hive of activity as installers look to take advantage of the exclusive show offer, and to learn more about how the CRM tool can streamline business.
"We are by our very nature a well-connected business, and we've become something of a hub within the glass and glazing industry," Elton said. "For example, our Business Pilot Barometer is published monthly across the leading trade media, and we sponsor events such as the GGP Installer Awards, the Glazing Summit and PIGs.
"Taking that into account, we created a Partner Zone on our stand where representatives from FENSA, CERTASS, Tommy Trinder, Windowlink, Everglade, Listers and Window Ware will be on hand to discuss their own offering and also the benefits of working with us and with each other."
Everglade will also be hosting a light-night cocktail party on Business Pilot's stand from 5pm, where there will be further opportunities to network.
"There are many reasons to visit our stand at the FIT Show, so the £1/month offer is just the icing on the cake," Elton said.
"We see installers leaving their existing system to join Business Pilot every month. We are so confident that the installers we meet at the show will also want to jump ship that we are saying, try it for three months and, at the end, if you can't see the value for your business, we will just rip up the contract!"
Visit Business Pilot on Stand M10 at the FIT Show on May 10-12 at Birmingham's NEC.
To find out more please visit www.businesspilot.co.uk, email info@businesspilot.co.uk