23 Jan 2023
UAP ADDS HORIZONTAL CYLINDER TO KINETICA+ K4 RANGE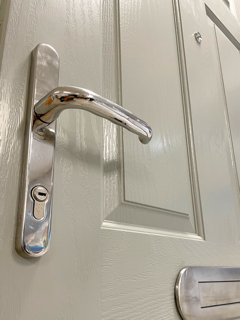 UAP Ltd, the specialist in locks and hardware for windows and doors, has launched a horizontal version of its industry-leading UAP Fullex Kinetica+ K4 3* cylinder, providing even more choice for specifiers looking for exceptional levels of security and ease of installation.
The launch of the new Kinetica+ K4 Horizontal follows the success of the vertical version, which was released last year. Like the vertical version, it combines a number of innovative security features developed by UAP in a single cylinder to provide ease of installation and robust security. The horizontal design is perceived to offer even more robust levels of security, with up to 13 million different key combinations, thanks to six dimple pins and five laser track side pins.
Julian Roberts, technical services director at UAP explains: "With more than 200,000 different key combinations, the vertical Kinetica+ K4 cylinder is difficult to pick, bump or drill and the horizontal version makes lock picking even more difficult. It has also been designed to allow only single-orientation key insertion, with an indentation on the key to indicate the correct key position for the end user. This enables a smaller keyway, making it even harder to attack the cylinder."
Beyond the obvious difference of orientation, the Kinetica+ K4 provides identical benefits to its vertical predecessor for both the installer and the end user. Secured by Design accredited, BSI 3* Kitemarked, and Sold Secure Diamond Standard approved, the new horizontal cylinder is one-hour fire rated and features UAP's patented anti-bump timing pin system, anti-pick pins and hardened steel anti-drill pins. As no trap pins are included in the design, there is reduced risk of cylinder entrapment. There is a sacrificial snapline on the outside of the cylinder to protect against attack, but it is still possible to open the cylinder from the inside even if it has been attacked from the outside.
Each Kinetica+ K4 cylinder is supplied with three UAP Fullex Bio keys, which have antibacterial and antiviral properties. The Bio keys have been tested to ISO 22196:2011 standards and shown to reduce Staphylococcus aureus and Escherichia col. They have also been tested to ISO 21702:2019 standards and shown to reduce SARS-COV-2 (COVID-19). The Bio keys' unrestricted keyway makes it easier to have duplicate keys cut using the UAP Fullex Kinetica key blank.
Simple to install and easy to use, the Kinetica+ K4 horizontal cylinder can be re-pinned to enable keyed alike or small mastersuite locking requirements, making the cylinder suitable for both domestic and commercial applications.
Julian Roberts adds: "Our investment in new product development is focused on providing customers with best in class solutions that offer ease of use, functionality and performance.
"The new UAP Fullex Kinetica+ K4 horizontal cylinder answers all of those requirements, providing smooth operation and robust security for an extended service life. Once again, it demonstrates the choice and quality available from the UAP range."