15 Dec 2022
UAP LTD TAKES THE RISK OUT OF SELECTING FIRE-RATED IRONMONGERY WITH NEW FIREMONGERY RANGE AND POS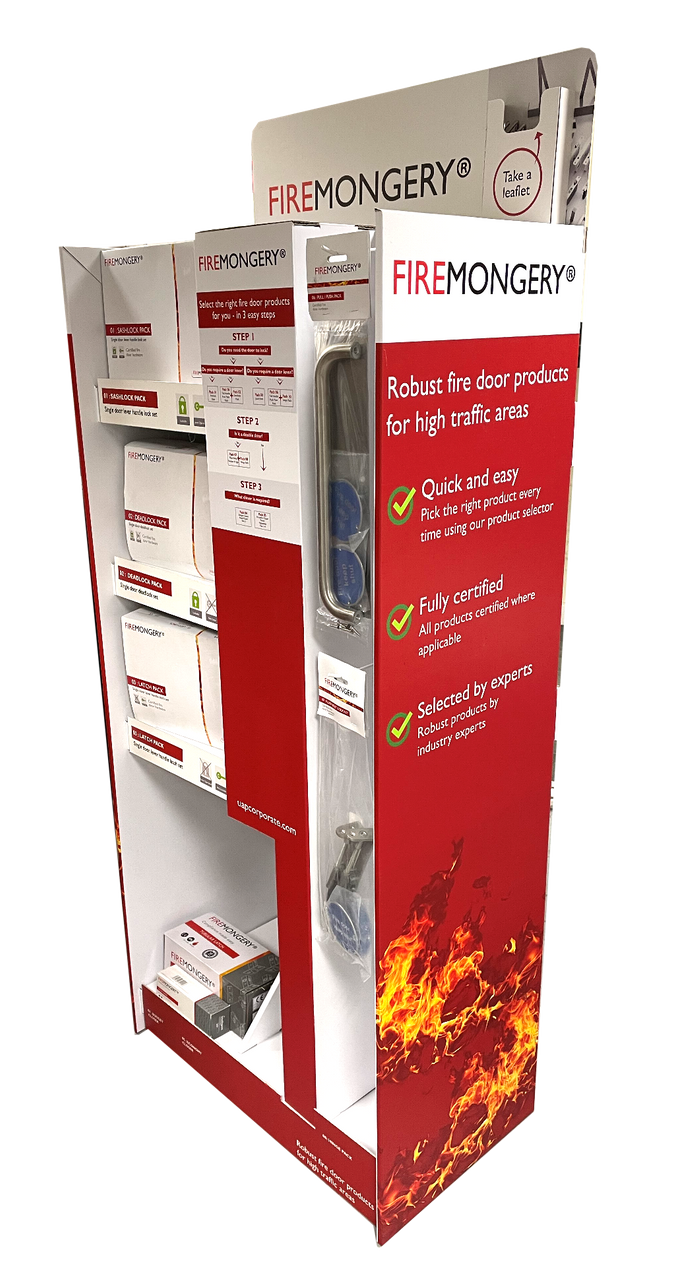 UAP Ltd, the UK's foremost independent supplier of ironmongery products and door locking systems, has launched a complete range of Firemongery fire door products designed to help customers select the right certified solutions in three easy steps.
Firemongery is the UAP brand that specialises in fully-tested and certified ironmongery and locking products for use in compliant fire door installation. The new range is designed specifically for builder's merchants, trade counters and wholesalers as a complete solution, with a fully-stocked POS (point of sale) unit. The unit features a unique 'Pack Selector' decision tree, providing customers with all the information they need to select and purchase the right items, and UAP has also created an interactive Pack Selector tool for the range on the company's website. Restocking across the range is available with next day delivery.
David Jennings, CEO of UAP Ltd explains: "We have designed this Firemongery range specifically for builder's merchants and trader counters, enabling them to provide both the products and guidance their customers need to take the risk out of selecting fire-rated ironmongery with our innovative Pack Selector.
"Whether a builder is installing fire doors across several properties or a homeowner is upgrading a single door, ensuring that the ironmongery meets both the relevant compliance requirements and the practical needs of the occupier is very important. This range has been developed as a pick-up-and-go solution for builder's merchant environments, with right first time product selection. The accompanying POS is both eye-catching and informative to help inform customers and attract sales."
Comprising robust, fully tested products selected by UAP's experts, the Firemongery range includes eight different packs, six of which are boxed with the remaining two in Euro Card/poly bag packaging. The compact, easy-to-assemble POS display unit has been designed to accommodate four units of each pack and UAP is offering a fully stocked POS for almost half the retail value of the products, with informative leaflets and a counter-top display unit included in the price.
David Jennings continues: "Both professional tradespeople and DIYers are extremely nervous about selecting the right fire rated products so there is a real opportunity for builder's merchants and trade counters to help them select the right products and have confidence in their choices with our new point of sale and Pack selector approach.
"We have designed the Firemongery POS to be both practical and informative. With a mixture of shelves, hooks and a leaflet dispenser, everything fits neatly on the robust unit. Meanwhile, the question and answer Pack Selector means that product selection is straightforward. And, of course, the Firemongery products offer the quality, value and compliance customers expect from a UAP brand."