07 Apr 2022
UK DOORS ONLINE DEBUTS AT FIT SHOW 2022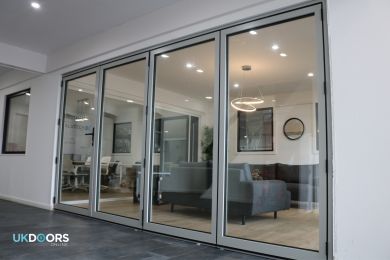 FIT Show 2022 marks the debut appearance of UK Doors Online, the specialist aluminium fabricator based in West-Yorkshire. This will be the first FIT Show to take place since the company formed in July 2020 and comes just as the business is reporting record monthly sales and annual growth that has doubled year-on-year. From stand F51, UK Doors Online will showcase their portfolio of aluminium doors and windows. Installers will also get the chance to meet the team and discover the man other benefits of buying from UK Doors Online.
Highlights of the stand will include a set of bifolds in beautiful Agate Grey, a colour that is set to soon replace anthracite grey in popularity, and French doors in a special RAL of UK Doors blue. There will also be a new slimline window on the stand, which complements the full suite of products from UK Doors Online, making them a one-stop shop for installers. And while the quality of products and options available will be the star of the show, it is the customer service and support from UK Doors Online that makes them stand out from the crowd.
Managing Director, Andrew Glover, explains why. "When we founded the business 2 years ago, our aim was to offer something others weren't in terms of customer experience. This covers everything from the products we offer, right through to our instant ordering and quotes, fast turnaround, reliable deliveries, quick lead times, good communication throughout and aftersales support.
"We've achieved this by constantly looking for ways to improve and innovate in all areas of the business. Our factory, which we've recently expanded, is well-equipped and well-staffed with the right people for the job to ensure quality of product and service. We even have our own fabricator training programme so our customers can be assured our products are made to exacting standards.
"Most of all, we're passionate about what we do and how we do it and I think that really comes across to the people we deal with. That's why we're always more than happy to help our customers with their own businesses, by sharing our knowledge and experience."
So, the question to installers really is, can you afford not to visit stand F51?
To find out why you should buy from UK Doors Online, visit stand F51 at the FIT Show or call 01924 929600, email info@ukdoorsonline.co.uk, visit www.ukdoorsonline.co.uk, or find us on social media.