21 Jun 2021
ULTRAFRAME IS BUILDING BACK BETTER AT FIT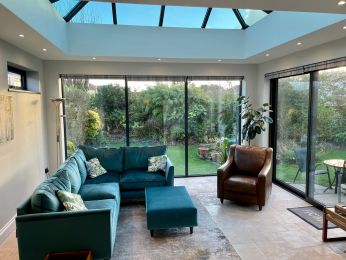 Ultraframe has announced that it will be showcasing and launching its latest innovations in roofing technology at the FIT Show, which takes place at the NEC from 25th – 27th September.
The Clitheroe-based industry pioneer will be launching a number of new innovations that will help installers and builders to create the 'Grand Designs' demanded by today's discerning homeowners, as well as showcasing its recently launched range of contemporary Garden Rooms. The products will be on display on a large, prominent stand where the Ultraframe team will be on hand to explain more about the latest additions to their product portfolio.
Commenting about the company's return to the industry's premier show, Ultraframe Marketing Director, Alex Hewitt, said: "After the restrictions of the last 12 months, we are thrilled to be able to interact with the industry on a face-to-face basis at The FIT Show. While it's been a challenging time for us all, it has also been a busy period for most of us in the industry, and we have seen new trends emerging as consumer's needs have changed during the pandemic and beyond. We have already provided a fantastic solution to the huge demand for a space in which to work from home with our range of Garden Rooms, which people will be able to see and touch for the first time at the show.
"We will also be launching a number of exciting new roofing systems and innovations which our R&D Team have been working hard on over the last year. It's no exaggeration to say that these systems are groundbreaking innovations that will change the way that installers and builders add space to homes forever, and we're extremely excited to share them with visitors to our stand."
In addition to the new systems on display, Ultraframe will also be showcasing important enhancements to current systems, as well as demonstrating the further bolstering of its already-impressive marketing support offering.
Nickie West, FIT Show Event Director, said: "Ultraframe is a brand leader in every sense of the word and we are proud to announce that they will be part of the FIT Show 2021 lineup. The fact that Alex and the team have selected FIT Show as the launchpad for the next generation of Ultraframe products is testament to the power of live events within the wider marketing mix.
"Our visitors will be able to see several products for the first time at FIT Show, and the new Ultraframe Garden Rooms will sit within our brand new Outdoor Living feature. We have developed the Outdoor Living feature to reflect the growing demand for products that enhance homeowner outdoor spaces and we're excited that Ultraframe will be part of it."
To see the latest roofing innovations from Ultraframe, visit stand H6 at The FIT Show.