13 Apr 2021
VISIT THE INSTALLER SUPPORT HUB AT FIT SHOW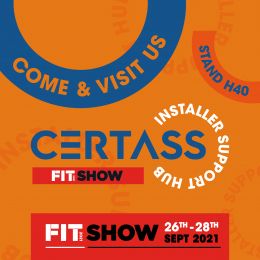 Certass is creating a live forum at the Installer Support Hub on Stand H40 at FiT Show 2021 in September.
The Installer Support Hub is a must visit stand for installers to find expert advice on all aspects of their business, including certification, competency, insurance, finance and business support.
Jon Vanstone, Chair of Certass and FiT Show Ambassador, says: "With the success of our members-only Facebook forum over the last year, we wanted to use our FiT Show stand as an opportunity to bring the forum to life, and that's where the Installer Support Hub idea came from.
"As well as having the Certass team on hand to talk about certification, MTC, the latest information from Government and the massive benefits that come with Certass membership, we are inviting our key partners from the industry to support installers with other areas of their business.
"We are focussed on supporting the SMEs that are the vital connection between consumers and our industry supply chain, and we understand they often wear many 'hats' during their working day. We have built our member benefit package to support them with everything from HR to finance packages, to make working life easier. Existing members can find out more, and new members are welcome to visit and discover what Certass membership can offer for them.
"It's a process driven by what our members ask us for in our daily conversations with them and their comments in our lively Facebook forum. The whole team is looking forward to being at FiT Show and chatting to members in person about how we can help and support them through 2021 and beyond."
Visit the Installer Support Hub at FiT Show, from 26-28 September 2021.