24 Jul 2019
XTRA! XTRA! READ ALL ABOUT IT! MILWOOD GROUP LAUNCHES NEW SIMPLICITY XTRA VERAND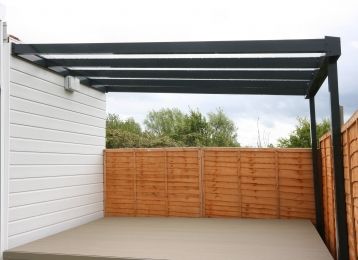 Milwood Group, the Kent-based outdoor living specialists, have once again strengthened their range of aluminium shelter solutions with the launch of the new Simplicity Xtra veranda.
Officially unveiled at the recent FIT Show, Simplicity Xtra is designed to bridge the gap between Milwood's more compact Simplicity verandas and their large-span Alfresco systems. To do so, the new veranda offers projections up to four metres using a single piece of 6mm glass between the rafters.
Despite the extra length, Simplicity Xtra is incredibly fast and easy to install – thanks in part to the new Easy Glaze System. This new system takes advantage of a top cap aluminium glazing bar, which allows installers to safely and efficiently glaze the veranda. The inherent strength of the system means posts are only required every four metres, allowing homeowners to cover the entire length of their property.
Kevin Horne, Managing Director of Milwood Group comments: "After a fantastic response at The FIT Show in Birmingham, we are delighted to finally break cover with Simplicity Xtra. The system was designed to give trade partners a veranda that is simple to install, without compromising on quality, performance or design. Judging by the feedback at FIT and the initial reception from our network, we believe that has been achieved.
"As homeowners continue to focus their attention on the exterior of their properties and outside spaces, demand for systems like Simplicity Xtra will only grow. The contemporary design, the ease of installation and the range of configurations and options makes Simplicity Xtra the optimal solution for a wide variety of applications. We look forward to seeing what our trade partners produce with this fantastic system."
Whilst Simplicity Xtra comes with the chunky, contemporary posts as standard, the system can be specified with the Simplicity 6 posts – allowing for the popular Victorian upgrade. Further upgrades include, 6mm tinted or self-cleaning glass, wall-mounted heaters and remote controlled LED lighting. The system is even available in any RAL colour, with Anthracite Grey and White available as standard.
Simplicity Xtra joins a full line-up of verandas, canopies and carports manufactured and supplied by the Milwood Group. Each system is available with a wealth of sales and marketing support, and rapid turnarounds thanks to their centrally-located distribution centre in Leicestershire. The site is also home to their Training Academy where installers can learn how to sell, specify and install each Milwood system.
For more information call the Milwood Group on 0330 404 9086 or visit www.milwoodgroup.com