20 Mar 2019
ALUK REVEALS C70S AT FIT – WITH PRE-INSERTED GASKETS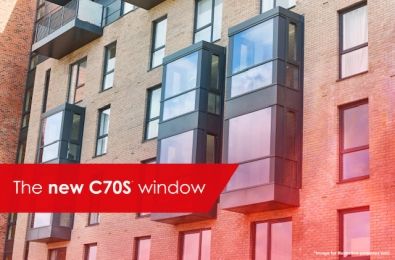 AluK will be revealing a brand new 70mm window system at the FIT Show – complete with pre-inserted gaskets.
This is thought to be the first time that an aluminium window system has been available in the UK with the gaskets pre-inserted – a move with AluK estimates could halve the time it takes customers to manufacture a window.
Managing Director Russell Yates says that it could be a gamechanger in the market – bringing aluminium into line with PVC-U and giving fabricators the opportunity to massively increase their margins and their competitiveness.
He says: "The AluK C70S will be pitched directly at the mid-rise commercial market where there is still plenty of potential for growth in aluminium. It is the new big brother of our iconic 58BW window system and incorporates everything which we know fabricators and installers love about the 58 – but with even faster, simpler fabrication and much improved performance."
AluK's specialist design team have created a great looking, cost effective new window which satisfies with ease all the key thermal, acoustic and performance criteria laid down by commercial specifiers.
For instance, thermal performance of the C70S is between 1.0W/m2K and 1.3W/m2K, a 50mm glazing option allows for improved acoustics and a max sash weight of 150kg for tilt before turn windows, and wind and water tightness levels are class leading - even with large span window openings.
It also of course PAS24 accredited for inward and opening windows, making it suitable for all projects requiring Approved Document Q.
AluK's Managing Director Russell Yates adds: "We can't wait to showcase this new window to customers at the exhibition ready for its official launch later this summer. It will be the platform on which we build an entire new range of products, giving our customers the same benefits of system integration which they already enjoy with the 58BW.
"It also has the massive advantage that it shares the sightlines and many of the parts and tooling required to manufacture the 58BW so customers will easily be able to add the C70S to their range and really make an impact in the commercial market without significantly increasing their stockholding."
Visitors to FIT in 2017 will remember that AluK really led the aluminium charge last time around and it plans to do that all over again. As well as the C70S and 58BW windows, the stand will be packed with all of AluK's most popular products for customers operating in the trade, retail and commercial sectors. There will be a wide choice of sliding and bi-fold doors, outdoor living products, curtain walling and commercial entrance doors, along with plenty of friendly, expert advice on how to get started in aluminium or how to take the next big step.
More details at: www.aluk.co.uk