26 Apr 2022
BRISANT-SECURE TO LAUNCH ULTION NUKI SMART LOCK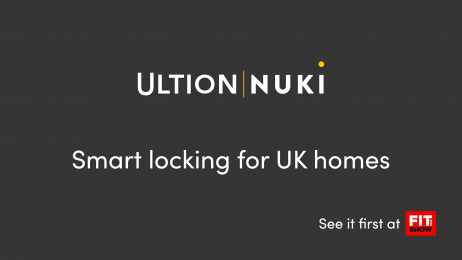 Brisant-Secure has partnered with tech company Nuki Home Solutions to create Ultion Nuki, a new smart lock that can lock and unlock UK doors remotely. The combination of Nuki building in mass platform compatibility and Brisant's UK market experience has created a true one-model-fits-all smart solution.
The dedicated lock and handle created by Brisant is what makes the Nuki cleverness work on most UK doors and is controlled by its own Nuki app as well as those from Ring, Amazon Alexa, Apple Homekit, Google Home, IFTTT and AirBnB.
Brisant-Secure CEO Nick Dutton said, "This partnership has enabled two companies to come together doing what they do best and making an innovative new product that is compatible with UK doors. In addition to Brisant's existing technical support team, Nuki also offer direct to homeowner support, giving the installer the opportunity to sell a smart solution without the involvement of servicing or handling technical questions post installation.
The lock can be set to lock and unlock when the homeowner approaches the door and in addition, when used with a bridge, this can be managed remotely from anywhere in the world; it also works with Ring so anyone with a Ring doorbell can lock and unlock the door from within the Ring app whilst talking to the visitor. Guests can be sent an electronic key that don't need the guest to setup an account. It still comes with uncompromising security with an Ultion 3*PLUS lock and key and a £2000 security guarantee. Some people aren't ready to give up their key which is why ULTION NUKI still comes with an Ultion 3* PLUS key and a manual dial on the inside.
Because there is no drilling, no wiring, automatic calibration, automatic updates and it uses the same three screws already in the handle, ULTION NUKI is fitted and working to the door within 5 minutes.
Nuki CEO Martin Pansy said, "We are really pleased to partner with UK Lock experts from Brisant Secure. Due to its complexity the UK market is historically difficult terrain for retrofit Smart Locks, but thanks to the door handle created by Brisant we are now in a great position to bring all the benefits of Europe's leading smart access solution to the UK."