26 Mar 2019
CHASE TAYLOR PLAN FIT SHOW BLINDER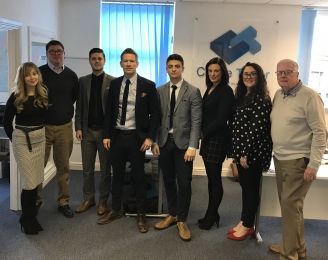 Fenestration recruitment specialist, Chase Taylor is set to pull off a 'Blinder' of a FIT Show having doubled the footprint of its stand to reflect its growing presence in the industry.
Alongside a Peaky Blinders themed showcase, FIT Show visitors will be able to benefit first hand from the Chase Taylor team's expertise through a series of business clinics due to be held on its stand 135 across the full three days at the NEC (May 21st to 23rd).
Whether it's a company looking to attract the very best talent, or a candidate seeking the best opportunities out there, Chase Taylor will run clinics including; 'CV writing tips', 'attracting talent', 'salary banding' and 'talent retention'.
Alongside the business clinics, Chase Taylor will be offering a first class 'matchmaking' service where exhibitors and prospective employers can create a 'perfect profile' for roles they are seeking to fill. This will be supported by an exclusive FIT Show offer of 50[EM1] [MOU2] % off Chase Taylor's standard fees for new roles registered at the Show.
Chase Taylor MD, Mat Gibson will take to the stage as part of the main FIT Show learning programme sitting on the expert panel during the inaugural 'Skills Thursday'. The 'Fenestration, so what?' panel will take place at 11.00am on Thursday 23rd May. Mat will provide an insight into the plethora of career opportunities available across the industry, as well as offering candidates advice on how to get off on the best career path.
Speaking about exhibiting, Chase Taylor MD Mat Gibson said: "We're really proud to be exhibiting again at this year's FIT Show. This is a key event for our industry - nowhere else will you see a better showcase of what the fenestration industry has to offer.
"We'll be using FIT Show as a platform to build on our existing relationships and make new connections. Whether you're an employer with recruitment needs, or a candidate looking for your next move, we'd like to invite everyone over to the Chase Taylor stand. Come along to find out first hand why we're different from other recruitment agencies and why, we believe, we're the no.1 agency for the industry."
Chase Taylor, which was established in 2012 by Gibson, is headquartered in Cannock, West Midlands and is made up of a team of nine recruitment specialists with almost 100 combined years of experience specifically within the fenestration and surrounding industries.
FIT Show is the UK's only dedicated event for the glass and glazing industry and will take place at Birmingham NEC, May 21st - 23rd. The 2019 event marks Chase Taylor's 5th time of exhibiting.