05 Mar 2020
DOOR & HARDWARE FEDERATION WILL DEBUT AT FIT SHOW 2021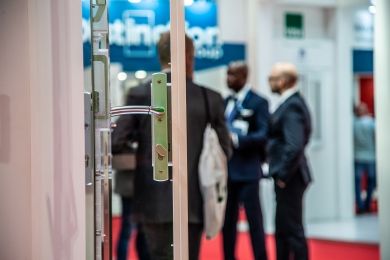 The Door & Hardware Federation (DHF) is set to make its FIT Show debut, having pledged its support to the UK's number one glass and glazing event when it returns to the NEC next May (25 - 27, 2021.)
Tamworth-based trade association, DHF is a not-for-profit trade association for companies associated with locks and building hardware; doorsets; industrial doors and shutters, domestic garage doors and automated gates.
DHF members, of which there are almost 500, will be able to showcase their products and services as part of a brand new 'DHF Members Zone' at FIT Show 2021.
Patricia Sowsbery-Stevens, DHF Commercial Manager, said: "DHF is the 'go to' place for technical advice and training which lends itself to raising the standards of the industry. We are regarded as the 'Centre of Excellence', with a network of professional staff members as well as external consultants that can provide support in all sectors, making us a single source for technical expertise, information, knowledge, advice, and practical help.
"FIT Show is the ideal platform to not only promote DHF, but to highlight the fantastic work of our members and help them to engage with new audiences who may require their products or services.
"As well as debuting our DHF Members Zone, we will be contributing to the FIT Show learning programme and delivering specific presentations for the show's target audience that are topical at the time of the event."
Speaking about DHF's debut at FIT Show 2021, event director Nickie West said: "We're delighted to announce that the DHF has pledged its support to FIT Show 2021 and look forward to welcoming its members to the newly created 'DHF Member Zone' next May.
"The fact that over half of our visitor audience is made up of companies who have expressed an interest in sourcing doors, locks and hardware via the show makes FIT an ideal platform for the DHF and its members.
"As organisers, we are committed to raising standards across the industry and are continuing to work with the many trade bodies and associations to ensure that FIT Show delivers the right content for all."
FIT Show is the UK's number one, award-winning showcase for the glass, glazing, window, door, hardware and components industry. FIT Show will return to the NEC 25 - 27 May 2021, Halls 2 and 3.