08 Aug 2018
EDGETECH TO UNVEIL INNOVATION AND DIGITAL EVOLUTION AT FIT 2019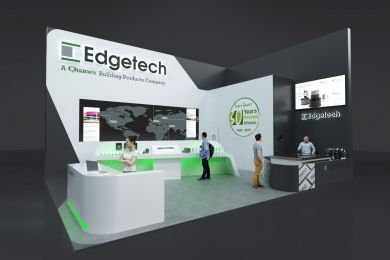 Warm-edge experts Edgetech are set to launch a brand-new product at FIT Show 2019.
From the 21st-23rd May, the respected firm will be showcasing the new offering, alongside a range of other cutting-edge innovations, to thousands of visitors from right across UK fenestration.
For the past two years the Edgetech team have been focused on their three-tier strategy of innovation, operational excellence and customers at the centre – and the FIT Show 2019 serves as the perfect platform for the company to share the results so far.
Edgetech's stand will form part of VISIT Glass, the new show-within-a-show entirely dedicated to glass manufacturing, processing and installation.
There, visitors will be able to see live demonstrations of Edgetech's best-in-class spacer products, its intuitive new online ordering system and further digital enhancements to its market-leading technical service offering.
Edgetech's Commercial Projects Manager Joe Erb will also be flying in from the US to give a daily seminar.
With a quarter of a century of fenestration sector expertise under his belt, Joe is chairman of America's Insulating Glass Certification Council, and one of Edgetech's most experienced and longest-serving employees.
Today, he takes the lead in growing Edgetech's presence in the commercial and architectural markets – and his FIT Show presentation will focus on changing trends in the architectural sector, including the rising importance of shaped units, sustainability, and automated manufacturing.
He'll also touch on the dramatic rise of traditionally commercial products in the residential sector, like bifold and patio doors.
What's more, on the Tuesday night, Edgetech will mark the 30th anniversary of its flagship Super Spacer with a party at its stand – celebrating both the market leadership that first led the company to launch the world's first foam warm edge spacer, and the continuing commitment to evolution that sees it poised to release another game-changing innovation in 2019.
"We always look forward to the FIT Show, but this one is shaping up to be particularly special," comments Edgetech Managing Director Chris Alderson.
"We'll be taking the opportunity to celebrate Super Spacer's astounding success over three decades with friends throughout the industry. We'll be introducing customers to our new e-commerce system. And, after a lot of intensive research and development behind the scenes, we'll be unveiling our cutting-edge new spacer product.
"I'm also delighted that Joe Erb, one of Edgetech's most senior and long-serving employees, will be making the journey to share his wisdom with us!
"We are looking forward to celebrating our history while bringing our customers the future of IG technology - please join us on stand C24."
For more information please visit www.edgetechig.co.uk