12 Apr 2022
ELEMENT FOCUSED ON HELPING MANUFACTURERS IMPROVE TESTING AND CERTIFICATION AT FIT SHOW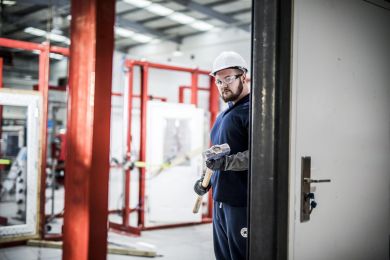 2022 also marks 25 years since BM TRADA's leading 'Q-Mark' construction products certification scheme launched.
Element Materials Technology will join industry peers at FIT Show 2022, as the exhibition returns after three years to Birmingham on 10 – 12 May 2022.
During the three-day event, Element will be showcasing the range of testing services it offers to door and window manufacturers. Visitors can engage with Element's team of expert colleagues on stand B21 over a wide range of testing requirements, such as security, durability, weather, acoustics, smoke, fire and photogrammetry.
2022 is also a landmark year for Element, as it is the 25th anniversary since BM TRADA, part of the global testing organisation, launched its 'Q-Mark' third-party certification scheme for construction products.
Leigh Hill, Divisional Director, Fire & Building Products, said: "We are very excited to be back at the FIT Show this year and are looking forward to helping door and window manufacturers with their testing and certification requirements.
"We have continually developed our services and our technical capabilities and have invested heavily in our UKAS-accredited laboratories to raise standards across the industry. We're here to support manufacturers through changing regulations like UKCA marking and updates to Document L, to emerging issues such as supply chains impacting on product certifications, ensuring that they can continue to bring new products to market quickly and cost-effectively."
In addition to the 25th anniversary of the Q-Mark certification scheme launch, 2022 marks 30 years since the introduction of leading fire protection product certification scheme 'Certifire' from Warringtonfire, also part of Element. Alongside these anniversaries, it is 50 years since Warringtonfire started conducting fire testing at its High Wycombe laboratory.
Element operates out of its flagship test laboratory in Wednesbury, Birmingham. At the site, manufacturers' can attend and witness door and window testing such as PAS24 security attack testing, weather testing and cycle testing.
For more information, please visit: https://www.element.com/construction/building-products/doors-and-windows-testing.