19 May 2022
A FIT-TING WAY TO CELEBRATE 125 YEARS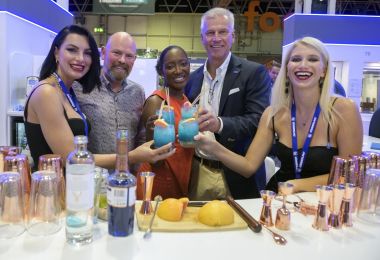 KÖMMERLING celebrated the 125-year anniversary of the brand in style at this year's FIT Show with a stunning stand bursting with product innovation, large scale AV production and featuring a large central bar made from the company's KomaCel sheet.
Inspired by their Fensterbau stands from recent years, this year's stand was a showcase of the power of the KÖMMERLING brand, backed by an unsurpassed product range that included their latest 70mm flush sash window which achieves a U-value of 1.2 (W/m2K) with a standard double-glazed unit. Elsewhere on the stand were other windows from the KÖMMERLING 70 and System 76 platforms, along with a feature packed PremiLine Pro patio door and the lift and slide PremiDoor.
A Legend brand window including cut through section with head vent and cavity closer featured as did the new KÖMMERLING VS which were both very well received. There were also WarmCore bi-folding and patio doors on show, along with several product cross sections from the system, all of which provide significantly better energy efficiency credentials than typical aluminium systems.
Dr Peter Mrosik, owner and CEO of profine Group, was also at the show for most of the three days as he did in 2017 and 2019 and reiterated the group's commitment to a £multi-million investment programme in Huthwaite to make it a world class facility worthy of the KÖMMERLING name. Goodies were passed out to visitors, along with a premium hard-backed celebratory brand book, copies of which we also signed by Dr Mrosik.
Kevin Warner, sales and marketing director for profine UK and KÖMMERLING was rightly enthusiastic and commented: 'Right from the show opening our stand was busy with existing customers and prospects, but despite the challenges that the industry has faced recently, there was a great deal of positivity throughout the show. We have a great and expanded product range and a commitment from the group and ultimately the owner to build this great brand further in the years to come and the FIT Show has certainly laid the foundations for us to do so.'
For further information please visit www.profine-uk.com, e-mail enquiries@profine-uk.com or phone 01623 579200. There's also a dedicated site for KÖMMERLING at www.kommerling.co.uk. You can also follow them on social media platforms including Twitter @profineuk and @kommerling_uk.