25 Oct 2021
INDUSTRY IS READY TO GET BACK TO FIT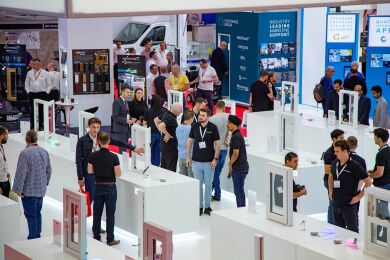 Organisers of FIT Show, the UK's only dedicated trade show for the glass, glazing and components industry, have announced strong visitor appetite for its May 10 - 12 event.
When FIT Show opens its doors at the NEC next May, organisers are anticipating record levels of visitor numbers as it brings the industry back together for the first time since 2019. Over 80% of space has already been allocated to exhibiting brands.
Visitor pre registration figures continue to track well above the numbers for the same point in the campaign for 2019, reinforcing the appetite to get back to live events. Over 400 people registered in one week alone in June.
Organisers have observed a broadening of the types of people who have registered to visit the exhibition, as well as a change in focus for reasons for attending and the products that they want to see at FIT Show 22.
Installers (over 25%) top the main company activity for those who have pre-registered to visit FIT Show in May, closely followed by fabricators (12%), glaziers (11%) and builders/property developers (9%). The broad mixture of categories spans right through to merchants, architects and local authorities.
Doors remain the number one product that visitors will be attending FIT Show to see, compare and purchase. Bi-fold doors just top the list (5%) with an even spread of appetite for aluminium doors, windows, composite products, hardware and furniture. Garden accessories feature more prominently than previous years at 2% reflecting the growing trend for outdoor living.
FIT Show typically attracts 10,000 visitors across the three days of the show. A large proportion of those who have registered early to visit are C-suite level, with company director (22.5%), business owner (17%) and MD (12%) all featuring as the primary visitor job title.
Reinforcing the importance of face-to-face business and the appetite to get back to live events, the main reasons that pre-registrants have highlighted as their reasons for visiting include; to see new products and equipment (24%) and to meet suppliers, customers and network (23%.)
There is also a clear appetite for FIT Show's learning programme with 21% of pre-registrants wanting to keep abreast of changes in the industry (21%), as well as specifically wanting to attend seminars (7%).
Speaking about the encouraging visitor data, FIT Show event director, Nickie West comments: "It's hugely encouraging to see such a strong appetite for FIT Show, as reflected in the high number of visitors who have pre-registered much earlier in our campaign. With no industry event since 2019, it's time to get back together and reconnect.
"I'm always eager to dig deeper into our visitor data and have been encouraged by the breadth of interest we have received from various job functions. But what I am most excited to see within the data is the broadening of the areas of interest from our pre-registered visitors. It's far from being isolated just to windows and doors, with different materials featuring prominently as an area of interest amongst visitors, and significant interest for new products to enhance outdoor living.
"After an extended period of restricted face-to-face business we hope that the entire industry will share in our enthusiasm at getting back to doing what we do best. FIT Show is the UK's flagship event for the glass and glazing industry and we are excited to showcase all of the latest products and innovations when we return next May."