18 Dec 2022
KUBU RECEIVES G22 AWARD ACCOLADE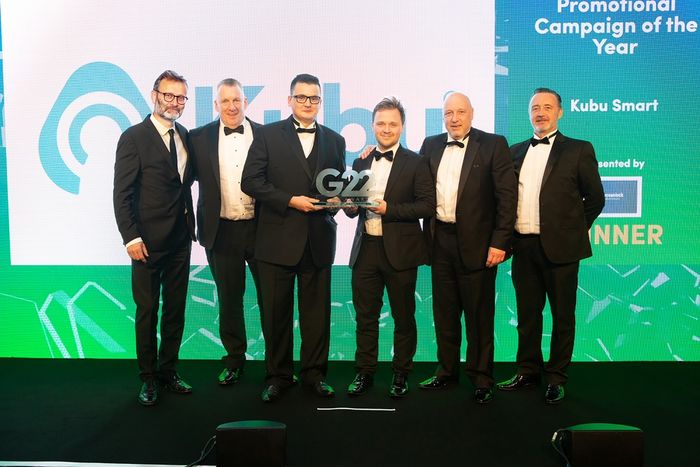 It's been a remarkable year for Kubu Smart, topped off by winning Promotional Campaign of the Year at the G22 Awards for their 'Be Smart' campaign in a highly competitive category. Now completing its 18th year, the G22 Awards event proved to be another evening that celebrated the very best of the industry late into the night.
The 'Be Smart' campaign was harnessed across social media, video, PR, web, exhibition, POS and print, along with email marketing as a persuasive mantra that encouraged customers to partner up with the pioneering smart security brand. With smart sensor technology relatively in its infancy in the sector, it's also been a marketing message to communicate joining up with a proven technology too, ultimately the smart choice.
The campaign also realised a shift in approach by the company from one that has been engineering and product led, to one that's more marketing focussed than ever before, with new communications channels being explored for 2023 and beyond.
The culmination of several years of hard work in both product development and sales, the campaign has introduced industry first products, partnerships and benefits, through high-energy and high-quality videos, posts, parties, POS, and PR - all with one crystal clear message: Be Smart. Work with Kubu.
'We are absolutely delighted to have won such a highly regarded award in front of our friends and colleagues, but this is not just about us marketing ourselves' commented Marc Henson, head of marketing for Kubu Smart. He added: 'It's about making sure our customers, and their customers can be successful too. That's why we have developed our 'Works with' and 'Kubu PRO' programmes too.'
For information about becoming a manufacturing partner or Kubu Pro Installer then please visit getkubu.com/trade, e-mail support@kubu-home.com or call 0330 555 9545 for a free information pack. For all things smart related you can follow them on all leading social media platforms @GetKubu.