24 Apr 2019
NOTHING TO WASTE…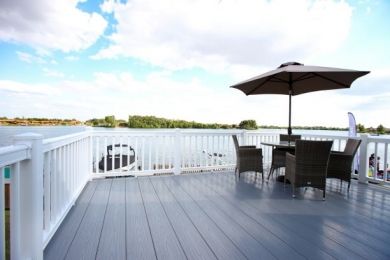 The world around us is changing with the increased concern over the impact of plastic on the environment. Consumers are much more concerned with the lifecycle of the products they purchase and what if any detrimental effects do they have on the planet.
While the majority of systems companies have implemented recycling initiatives in the last few years, industry-leading systems house Liniar has been recycling and fabricating its extensive range of recycled outdoor products for nearly three decades.
The negative reputation of plastic rubbish on the environment is in the media daily - which is why it's essential for PVCu extrusion companies and fabricators to be ISO14001 accredited and maintain a ZERO operational wastage record. Not only for the betterment of the planet but also to provide customers with the peace of mind that you're committed to putting environmental policies above profits.
For Liniar, being a zero operational wastage facility is a way of life. At a point when the installer demand for project add-ons is at an all-time high, it's an excellent opportunity for PVCu manufacturers and fabricators to introduce recycled, low maintenance product ranges, like Liniar's decking, fencing and piling.
Liniar's PVCu piling is used mainly for soil and water retention, and is manufactured with 100% recycled lead-free PVCu. The range is available in several variations including the company's popular log pile. The Environment Agency and National Trust have been customers of Liniar for years because the plastic solution is eco-friendly, low maintenance and light to carry and install in remote locations – it's the ideal solution for water retention and moor conservation efforts.
Liniar's decking and fencing ranges are manufactured using 86% recycled PVCu. Both are a firm favourite with garden-loving homeowners, holiday park owners and businesses requiring a low maintenance solution for outdoor seating and play areas.
Liniar's Group Managing Director, Martin Thurley, commented, "Our part-recycled decking range has seen tremendous success - particularly since we began offering it in kit format. This growth, combined with tight operational efficiencies, means demand is outstripping supply of the recycled PVCu we produce in house.
"The next logical step in the process would be to work with customers to bring back the scrap Liniar lead-free PVCu off-cuts generated at the fabrication stage, and to invest in even better recycling facilities to process it with. This is a win/win - our customers won't have to pay for expensive waste removal, and we can continue to feed more recycled materials into our outdoor range."
Martin continues:
"Our operational efficiencies combined with the company's 25 years of recycling its waste mean Liniar's already in a great place to minimise the impacts our operations have on the environment.
"The fact our products can be recycled again at the end of their useful life means our lead-free PVCu need never end up in landfill - and our customer recycling initiative will only serve to improve our environmental credentials even further!"
Visit Stand J10 at the upcoming Fit Show 21-23 May, where Liniar will have samples of their part-recycled deck boards, as well as new windows, Avantek Machinery and an energy efficient concept design. Have a chat with a few of Liniar's expert team members and discover the Liniar difference.