19 May 2022
PREMASEAL PROVES POPULAR AT FIT SHOW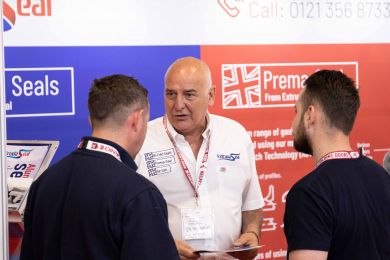 "We always knew about the issue of stretching gaskets, but the FIT Show made us realise it is even more widespread than we thought," says Chris Byers, Managing Director at Extrudaseal. "It was a major topic of conversation which meant that PremaSeal was the most popular product with visitors to the show."
After developing PremaSeal in 2020 using anti-stretch technology, the leading industry show provided the first opportunity for customers to see the new gasket in person and they were impressed with what they saw.
Chris, who had a fantastic FIT Show with the Extrudaseal team, added: "Many of the people who visited our stand explained they were having issues with their existing seals shrinking or stretching. With PremaSeal we are able to provide them with the perfect solution – and it went down a treat.
"Featuring anti-stretch technology which helps the seal stay in place, it offers fabricators a solution they can fit and forget without worrying about shrinking. This results in reduced site call backs to re-fit the gasket which not only makes windows and doors last longer, but it also significantly reduces waste.
"Customers in the past have explained how they've had to cut gaskets longer to account for shrinkage, but with PremaSeal you don't have to do that, saving fabricators around 14 metres of gasket per 100 sashes, which is a phenomenal reduction.
"Our Se-Lon foam seals and corner gaskets also attracted attention, but overall, it was just great to see everyone again, especially at PiGs on the Wednesday night which we are always very happy to sponsor."
For more info, visit www.extrudaseal.com