27 Mar 2019
ROOF MAKER LAUNCHES NEW CONSERVATION LUXLITE™️ ROOFLIGHT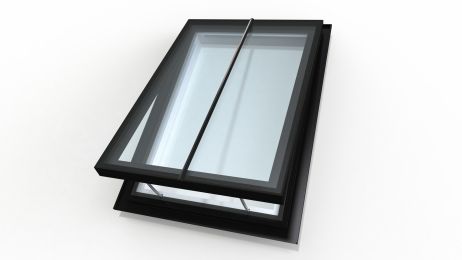 Designer, manufacturer and supplier of rooflights, Roof Maker, is maintaining its position at the forefront of industry developments with the launch of its new rooflight, the Conservation Luxlite™️.
The conservation area friendly rooflight has been designed to help architects and installers maintain the heritage character of their clients' homes. Particularly with regard to listed buildings and barn conversions.
Designed to replicate the original Victorian cast iron skylight featured in many traditional properties, Roof Maker's latest rooflight features a slim shaped split bar that is constructed of high quality aluminium for better weathering and aesthetics.
Unlike existing conservation skylights where the split is sandwiched between the glass panes, Roof Maker's split is structurally bonded to the glass to eliminate the presence of a cold bridge, significantly minimising the risk of condensation forming and retaining the best possible thermal performance. The bonding process also eliminates the opportunity for dirt and debris to accumulate underneath the split, a potential issue with other skylights that only feature a rubber seal. By constructing the split from aluminium, rather than commonly used steel, the opportunity for risk of corrosion is also greatly reduced. Enabling Roof Maker to offer a 10 year warranty on their frame, whereas most steel frame manufactures only offer a 1 year warranty.
Roof Maker is driven by its commitment to providing professionals with the highest standard in aesthetics and quality, with the new rooflight offering outstanding U-values as low as 0.5W/m2K by featuring triple glazing as standard. This significantly improves the overall energy efficiency and thermal comfort of the living space.
Sabahudin Medic, Technical Director at Roof Maker, said: "The trend for renovating listed properties continues to be extremely popular with housing developers and architects, which is why we have launched our new Conservation Luxlite™️ rooflight to support professionals in not only achieving compliance with building legislation regarding listed buildings, but also improving the overall thermal performance of the building.
"Our in-house research and development team in Leicestershire has worked hard to produce a rooflight that surpasses industry standards, offering the highest level of aesthetics, thermal performance and overall quality. Particular importance has been placed on the aesthetics of the rooflight, as it has to be sympathetic to the historical style of the building, whilst also offering the contemporary benefits of our award-winning Luxlite™️ rooflight is renowned for."
The new rooflight is available in either fixed or electric hinged opening options, including a free rain sensor if a remote control option is specified. Each Roof Maker rooflight is handcrafted to order, so can be built according to individual custom sizes to ensure a perfect fit.
Featuring an innovative flashing apron, the rooflight offers superior water dispersion and ease of installation for an experienced professional builder, roofer or carpenter, supported by impressive lead times due to being manufactured here in the UK.
The Conservation Luxlite™️ rooflight will be showcased at this year's Home Building and Renovating show at Birmingham NEC on stand G142 and the FIT Show on stand K40, with Roof Maker's team of dedicated experts on hand to offer exclusive information and insight into latest edition to their product portfolio.
To find out more about Roof Maker and its range of rooflights, visit http://info.roof-maker.co.uk/conservation or call 0116 214 5399.