24 May 2022
THE SMARTEST SHOWING FROM KUBU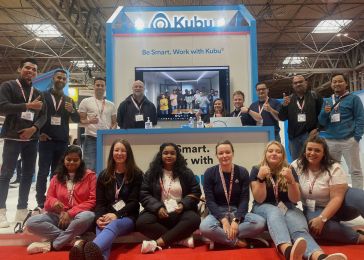 Kubu Smart made a remarkable impression at this year's FIT Show, providing the industry with a complete smart home solution, regardless of handle or cylinder preference. A complete range of window and door smart sensors were presented, backed with a unique, smart security guarantee, alongside new Avantis multi-point locks that 'Work with Kubu'.
From the outset Kubu has been developed for any cylinder and any handle, but the company has aligned itself with Avocet and ABS as their cylinder partner. Other partnerships with Locket for home insurance, Dekko, DoorCo, Garnalex/Sheerline, Haffner, KÖMMERLING, and Listers were represented across the FIT Show, while meetings were held with other global smart-tech giants across the three days.
The emergence of smart tech for the industry cannot be underestimated, explained an enthusiastic Ryan Bromley, co-founder of Kubu Smart. He explained: 'FIT Show 2022 was a game changer for us, with the industry's first smart solutions for windows, doors and the retro-fit market all ready for launch. We're fully tooled and actively in production, with stocks of sensors and Avantis hardware available just a matter of weeks after the show. Feedback from visitors was nothing short of exceptional.
He continued: 'The partnerships we have in place are a testament to the confidence people have in Kubu, with many more in the pipeline too. As a global business we've got over 12 years' experience in smart-sensor design, development, and manufacturing. With over 120 million active sensors, for some of the world's best-known brands, in consumer's homes worldwide, you can trust in our experience and reliability. Kubu Smart Security technology is ready now, with some consumers already enjoying a connected smart-home with sensors on all of their windows and doors.'
For information about becoming a manufacturing partner or Kubu Pro Installer then please visit kubu-home.com/trade, e-mail support@kubu-home.com or call 0330 555 9545 for a free information pack. Please also follow them on all leading social media platforms @GetKubu.