30 Mar 2022
SOLAR CALIBRE IS 'ALWAYS OPEN' ON STAND R11 AT FIT SHOW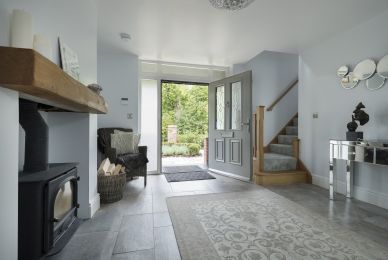 Solar Calibre Doors will be making its debut appearance at FIT Show 2022, supported by its new 'Always Open' marketing campaign and showcasing its extensive range of GRP and Timber composite doors, under the well-known brands Benchmark and Craftsman.
Solar Calibre is renowned for the quality and workmanship of its products, encompassing designs that echo the past, reflect the present and spotlight the future, with style and colour variations to complement every housing design era. Through the extensive range of colour, door design, glass and hardware options, the choice appears infinite.
Solar Calibre's flagship Craftsman collection unites precision engineering with the beauty, strength and resilience of timber, while Benchmark offers an energy efficient, entry level composite GRP range.
The business is developing further its specialist doors, in particular its fire door range. It will be showing its existing highly acclaimed Warden FD30S timber firedoors, as well as extending the range with the addition of a GRP firedoor. These products are safety tested to the highest, most exacting standards, the entire range exceeding fire safety regulations.
Already an established supplier of composite doors, Solar Calibre is looking ahead, exploring new technologies and glimpsing the future of door specification. Visitors to the stand will be able to take a look at some options and give their thoughts to the Solar Calibre team, which is always open to observations and feedback from customers. Excellent customer service and attention to detail are both critical USPs for the business, as explained by Gareth Jones, Managing Director of Solar Calibre Doors:
"Not surprisingly, one of the reasons our customers come back to us again and again is because of our service – we listen, we learn and we deliver. So, we've wrapped Solar Calibre in our 'Always Open' marketing theme because it represents everything the business is about – we're always here whether that's literally, to drop in and see us, or to handle technical queries, answer product questions or ensure smooth delivery to site.
"And now, we're really pleased to announce the launch of our new online portal to streamline the ordering process – customers can place orders in their own time, day or night. We know this will be a real benefit for them so we're looking forward to receiving their feedback."
As well as having its stand presence at FIT Show, Solar Calibre will also be represented on stage when Gareth Jones joins a panel on 10th May, 1.10-1.40, discussing 'Facing up to the skills shortage' with industry colleagues.