12 Nov 2020
VEKA ANNOUNCES MAJOR PRESENCE AT FIT SHOW 2021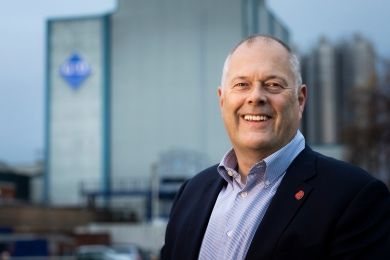 VEKA PLC has announced its participation at FIT Show 2021, with what has been described as a 'substantial stand and significant brand presence' at the event.
In a joint announcement by outgoing Managing Director Dave Jones, who retires at the end of the year and Neil Evans, his successor, VEKA has committed to a significant stand at FIT Show. Alongside this, the industry leading systems house is set to sponsor the VIP Lounge, which will be positioned adjacent to the company's stand, at the show next May.
VEKA's appearance at FIT Show 21 reflects the VEKA Group's commitment to live events, with an approach that will be reminiscent of the company's Fensterbau appearances, confirming a strong commitment to personal relationships with its customers. "It's part of the philosophy for VEKA worldwide," said Dave Jones. "We've always had that association of going to live exhibitions whether it's Fensterbau, whether it's Glassex or whether it's the FIT Show," he said.
"From our point of view we're very happy to be part of it again; it's great, a place where we can network, [visitors can] see the product, touch and feel it and so it's the complete package from our point of view," added Dave.
FIT Show 2021 will be the third for Neil Evans, and a natural progression for the company he says: "We'll continue to build on the experiences we've had in the past," said Neil, who assumes the role of Managing Director at the turn of the year.
"We will exhibit product but more importantly it's the social element. We saw that the last time at the FIT Show. The vast majority of our customers wanted to come and talk, to come and socialise, to continue to build relationships and that is what we plan to focus on," asserted Neil.
In addition to its sponsorship of FIT Show's VIP lounge, which is to receive a significant boost for 2021 with a redesign and additional facilities, VEKA will also sponsor FIT Show TV, which has proved to be a highly popular element of the event, with live video interviews and event coverage.
Speaking about this latest show of support from one of the industry's leading brands, FIT Show event director Nickie West said: "We have been chomping at the bit to announce that VEKA will, not only be exhibiting at FIT Show 21, but will have a significant brand presence across the show, including their sponsorship of our revamped VIP lounge.
"I cannot thank the industry enough for their unwavering support for its flagship event. To add VEKA to our ever expanding and exciting lineup for FIT Show 2021 is a further sign that the market is more ready than ever to reconnect with the industry face-to-face at FIT Show next May."
Watch the exclusive FIT Show & VEKA interview here.
FIT Show is the UK's number one, award-winning showcase for the glass, glazing, window, door, hardware and components industry. FIT Show will return to the NEC 25 - 27 May 2021, Halls 2 and 3.
ENDS.
For press enquiries: contact PR & content manager, Jess Hardisty - jess@fitshow.co.uk / +447871 544330.