01 Apr 2022
VEKA RECYCLING'S FIT SHOW MISSION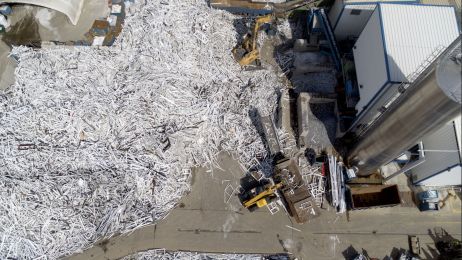 VEKA Recycling's new dedicated facility for the re-processing of end-of-life and virgin offcut profiles, was completed and commissioned during the two years of anti-pandemic lockdowns. The VEKA Recycling team has therefore been restricted in its mission to show off the facility, which is located in Wellingborough, but more importantly, the opportunity to discuss the benefits and advantages of recycling and promoting recycling, to fabricators and installers.
VEKA Recycling has led the charge towards the recycling of end-of-life PVC-U window and doors frames and has sealed its commitment to the promotion of this valuable material as a good plastic with the construction of Europe's most advanced PVC-U recycling facility, at Wellingborough. With this development, there is no longer any need for such material to be transported abroad for processing.
The company's team is on stand K21 throughout this year's FIT Show to show and discuss the incredible technology by which old windows and offcuts become brand new products, including new window profiles, within just days of being collected and returned to Wellingborough, and how such material actually improves new PVC-U profiles when combined with virgin material.
The team will also advise how homeowners are increasingly interested and impressed to learn that their old PVC-U frames will be re-used, thus alleviating fears about plastic pollution and how such positive messages should be used to secure sales. Crucially, installers and fabricators may also discuss how they can avoid the perils of unwittingly committing waste fraud, by returning old PVC-U frames and virgin offcuts to VEKA Recycling.
Simon Scholes, managing director of VEKA Recycling says that the discussions around recycling have moved on significantly in the past two years: "The window and door industry is a different place even since the last FIT Show and that includes homeowners' attitudes towards the broader issues of sustainability and what happens to their old frames when they are removed. FIT Show provides an ideal opportunity to answer any questions visitors may have about this increasingly important subject."