16 Aug 2018
A WIN-WIN FOR ALUK CUSTOMERS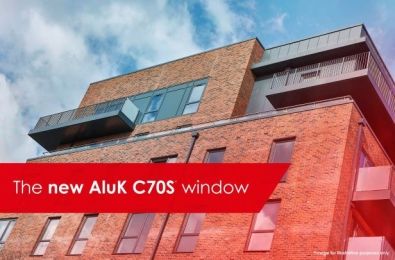 AluK is leading the way at the FIT Show once again with an exciting stand packed with innovation, market leading products, great advice, and even the chance for installers to win their first AluK aluminium window and door order worth up to £10,000.
Managing Director Russell Yates says it's a 'win-win' for both existing and potential customers who can talk to the experts at AluK about all the benefits which come from partnering with the industry's most dynamic and supportive aluminium systems company.
The big products being showcased on the stand and due for release later in 2019 are the AluK C70S window system for light commercial applications and the new Luminia S119LM slim sliding door for the premium retail market.
The AluK C70S is believed to be the first aluminium window system in the UK which will come with the option of pre-inserted gaskets, potentially saving time (and money) in fabrication; while the Luminia S119LM will sit neatly between the mid-market Optio BSC94S and the high end Infinium door giving AluK customers a stylish, easy to fit slim slider option for every budget and application.
These will be on show alongside AluK's existing and still hugely popular 58BW window series, its market leading sliding, bi-fold doors and residential doors and, perfectly timed for summer, its contemporary Luminia Veranda system.
There's a fantastic incentive being offered for installers who sign up in advance to attend the FIT Show. All they need to do is bring along to the stand a completed entry form from the AluK website (www.aluk.co.uk) and they will automatically be entered into a draw to win their first aluminium window and door order with AluK worth up to £10,000.
With 2019 marking AluK's 25th anniversary in the UK, the company will also be celebrating in style at the show and hosting a party on its stand during late night Tuesday to which all are invited. The AluK team have been busy pulling together a video montage of AluK's journey from 1994 to 2019 which promises to be quite a trip down memory lane.
Russell Yates added: "We're celebrating where we began, thanking all those customers who have been with us along the way and inviting new customers to join us for the next exciting stage in our journey."
More details are at: www.aluk.co.uk